Presidential elections slated for 5 February are set to crown a winner who could write their name in Cyprus' history books as the President who oversaw the birth of a gas export industry. For more than a decade the Mediterranean island's gas dreams have all but hinged on the fate of its first discovery, December 2011's 4.5tcf Aphrodite. But with a string of finds since 2018's Calypso on Block 6, there is renewed hope that 2023 will see decisive moves to finally get gas out of the ground.
Following Calypso's discovery by Italian firm Eni in February 2018 came US major ExxonMobil's Glaucus find on Block 10 twelve months later. Then Eni, which operates Block 6 with 50% alongside French major TotalEnergies (50%), came up trumps again last year, making back-to-back discoveries with 2.5tcf Cronos and 2-3tcf Zeus (MEES, 23 December 2022).
While Eni CEO Claudio Descalzi provided an initial reserve estimate of 6-8tcf for Calypso and ExxonMobil gave an estimate of 5-8tcf for Glaucus, MEES understands that those figures were somewhat premature. Although Eni has yet to drill an appraisal well at Calypso, Exxon's appraisal well at Glaucus last year, following which the US major made no official announcement, appeared to indicate smaller reserves than initially estimated, MEES learns.
This would appear to indicate that the carbonate play analogous to Egypt's Zohr that has yielded the Block 6 and 10 finds in the deepwater southwest of Cyprus is more complex than first anticipated. And though Aphrodite was discovered in the Miocene or 'Tamar Sands' which yielded Israel's 23tcf Leviathan and 13tcf Tamar, MEES understands that the geology here is also complex, potentially adding to development costs and as such raising the barrier to commercialization.
APHRODITE: IT'S COMPLICATED
The Aphrodite reservoir is compartmentalized, helping explain why the latest recoverable reserves estimate (2C) of 4.5tcf is below the initial 5-8tcf estimate given by then-operator Noble Energy following the field's late-2011 discovery (MEES, 9 January 2012).
Operator Chevron (35%), which purchased Noble in 2020, and partners Shell (35%) and Israel's NewMed Energy (30%) are planning to drill a third well at Aphrodite (A3) during the first half of 2023. Chevron has contracted the Stena Forth drillship to drill this second appraisal well which would potentially also function as the field's first production well (MEES, 24 June 2022). The Stena Forth currently remains on site at Chevron's recent Nargis discovery off Egypt (MEES, 20 January). Stena's current contract with Chevron lasts until April so presumably Aphrodite is next up, to be followed by a three-well campaign for Shell off Egypt (MEES, 20 January).
The upcoming A3 well is set to target the field's middle chamber, which contains the largest share of overall volumes according to the current modeling of Chevron and its partners. The stakes are high: if drilling is unsuccessful Chevron may walk away from the project, MEES understands. And while the field's complexity has played a role in the failure to move towards development, it is not the key reason holding the Aphrodite partners back.
With the Cyprus gas market currently non-existent, sanctioning development would require a gas sales export deal. Though this has yet to materialize, MEES understands that ongoing talks with Cairo have finally reached a breakthrough that could see a first gas export deal signed to supply Aphrodite gas to Egypt. Landfall would be Shell's now underutilized WDDM facilities, adjacent to the Shell-operated 7.2mn t/y ELNG export facility at Idku, although what Egypt chooses to do with the gas will also depend on its own domestic needs.
Egypt is the obvious choice considering its proximity and its own waning gas output which slumped to a four-year low of 6.5bn cfd for 2022. With Egypt only managing to maintain substantial LNG exports last year thanks to record imports of Israeli gas (MEES, 20 January), state firm Egas is keen to tie up other regional supplies.
Aphrodite's location also further complicates matters. It straddles the maritime border with Israel, in 1,700m water depth, increasing potential development costs. In 2019 the partners signed a revised production sharing contract with Nicosia (MEES, 8 November 2019) that outlined how they would proceed with development but they have to select their preferred development option for Aphrodite, despite Nicosia's hopes that concept selection was to be submitted by year-end 2022.
"There is still some work to do including the A3 drill before submitting a full development plan," a source involved in the project tells MEES. The preferred development option, MEES understands, is the construction of a 340km subsea pipeline from the field to the Shell-operated Burullus/WDDM processing facilities, at Idku, which lie directly alongside the ELNG export terminal north of Alexandria, with Egas expected to use the Aphrodite volumes to bolster its LNG exports.
The WDDM facilities have plentiful spare capacity, with WDDM output having fallen from a peak of 2bn cfd in 2008 to just 300mn cfd for 2022. Sources with knowledge of the project say a further fall to 200mn cfd this year is expected. The facilities also processed gas from BP's Giza and Fayoum fields (WND Phase-2) until those fields' reserves fully depleted in 2021 (MEES, 1 July 2022).
WILL DEVELOPMENT FLOAT?
An alternative would be for gas processing to take place on a semi-submersible platform located directly above the field, enabling output to be directly tied back to ELNG, bypassing the WDDM facilities. This was long the favored option of former operator Noble. Another option that has also not been fully ruled out, MEES understands, is combining Aphrodite development with the expansion of the nearby 23tcf Leviathan gas field in Israeli waters, which is also operated by Chevron (39.66%) and partnered by NewMed (45.34% - Israeli firm Ratio has the remaining 15%).
NewMed presentation material continues to indicate as a "potential" development option a pipeline from Aphrodite hot-tapping a pipeline linking Leviathan with ELNG. While Chevron has cooled on the prospect of piping Leviathan gas to Egypt as part of that field's expansion from 1.2bn cfd to 2.1bn cfd, the high cost of constructing a FLNG, the partners' preferred option, could yet force a change of heart. Concept selection for Leviathan expansion is due by July this year (MEES, 9 December 2022).
It would not be unreasonable to suggest that with the timeframe of both fields' concept selection lining up, and with Chevron and NewMed partners at both projects, a tie-up could be on the cards.
"Until we publish the concept selection, nothing is off the table, though a co-development is not the leading concept currently," the Aphrodite source tells MEES.
Spare capacity at the WDDM processing facilities in Egypt, Shell's involvement in both Aphrodite and at ELNG (along with WDDM) and a breakthrough in negotiations with Cairo may ultimately be the over-riding factor in the decision-making process.
Shell presentations of upcoming and planned projects continue to list Aphrodite tie-back to Egypt as a 'pre-FID option'. Whilst Shell previously gave a production figure of 125,000 boe/d (700mn cfd), it now describes the project as providing "backfill" given the ongoing steep decline in WDDM output.
BORDER ISSUES
With a small portion of Aphrodite (estimated at around 10%) overlapping into Israeli waters, first Cyprus and Israel will need to come to an agreement on a compensation mechanism.
While Israel and Lebanon managed to reach an (indirect) agreement on their maritime border last year, despite non-existent diplomatic relations (MEES, 28 October 2022), Cyprus and Israel, which are considered friendly states, have so far been unable to reach a unitization deal. Cyprus' Energy Minister Natasa Pilides and her former Israeli counterpart Karine Elharrar did make progress on reaching a compromise, MEES learns, but a recent change in government in Israel may throw a spanner into the works (MEES, 6 January).
Ms Pilides is also set to depart her role as Energy Minister next month with her tenure drawing to a close and following Cypriot presidential elections, which will likely see a change in government, further complicating matters.
However, a Cypriot government official is confident that discussions will remain on course despite a change of minister. "I don't expect any qualitative shift. Main priorities will remain. No substantial changes should be expected," the official says. The two countries have agreed to appoint an independent expert to adjudicate the case but have yet to appoint one, though Israel's energy ministry remains hopeful that a deal will be reached soon.
"The intended result of the negotiations will be the signing of an Intergovernmental Agreement, that will detail, inter alia, the expert procedure. We are optimistic for this to happen within a few months," an Israeli ministry spokesperson told MEES in December.
ENI & TOTAL CONFIRM CARBONATE PLAY...
With Aphrodite development having gone nowhere fast in the years following the field's 2011 discovery (MEES, 10 April 2015), potentially the most significant well offshore Cyprus from a geological standpoint came not in Cypriot waters at all but in Egypt, with Eni's August 2015 discovery of the giant Zohr field just across the Egyptian maritime border.
This launched a search for an extension of the same "Zohr-like" carbonate play on the Cypriot side of the border. And with Eni either operating or partnering TotalEnergies on the key blocks on the Cypriot side of the border, it was well placed to look for 'more Zohr' in Cyprus.
Though the first such well, July 2017's Onesiphoros on Block 11 (Total 50%op, Eni 50%), only discovered sub-commercial volumes of gas it did indeed confirm the extension of the 'Zohr' carbonate play into Cypriot waters (MEES, 15 September 2017).
…PLAN FAST-TRACK DEVELOPMENT
Subsequent wells by Eni with Total at Calypso, Cronos, Zeus, and by ExxonMobil with partner QatarEnergy at Glaucus and Delphine have all confirmed the existence of the carbonate play, with all but Delphine discovering gas (MEES, 1 February 2019). With significant assets across the border in Egypt, including Zohr which supplies 40% of the country's gas output, Eni is eying fast-track development of its Block 6 discoveries, which will likely see it take advantage of the already-existing infrastructure.
One option could be tie-back to the firm's Zohr processing facilities, which are adjacent to the 5mn t/y Segas LNG export facility at Damietta, where Eni is operator with 50%. The facilities here were built to cater to Zohr's 3.2bn cfd nameplate capacity but water infiltration issues have resulted in Eni placing a 2.6bn cfd cap on output, providing potential spare capacity for tie-ins (MEES, 22 April 2022).
Eni has been doubling down on Egypt in recent months taking extensive new acreage, mainly situated in the north of Sinai offshore region, where along with Chevron it made the Nargis discovery and where it continues to drill the highly anticipated Thuraya well (MEES, 20 January).
FLNG has also been discussed as a potential solution for developing the gas finds in Cyprus' southwest acreage, as Nicosia seemingly moves away from its long-stated aim of building a land-based facility on its southern coast at Vasilikos. With no official figure for reserves at Glaucus or Calypso, it may be the case that Cyprus is not sitting on the 15tcf of gas that would make a land-based project viable.
FLNG though remains an expensive option, as Chevron and its Leviathan partners have found out, and a relatively new and barely tested technology that has faced numerous challenges, something Shell can attest to following multiple shutdowns of its Prelude FLNG offshore Australia.
MORE 2023 DRILLING PLANNED
Eni is eying further drilling offshore Cyprus this year, following its 2022 successes. MEES understands the firm could return to drill the 'Cuttlefish' prospect on Block 3, having previously been blocked by Turkish warships in 2018 (MEES, 16 February 2018).
Exxon is also eying two wells this year. "One hopefully in Block 5 after seismic interpretation and one in Block 10," an informed source tells MEES. Norway's PGS last year shot seismic over a large portion of Block 5 and Block 10, while also covering the Egypt side of the maritime border (MEES, 1 July 2022). This is likely behind the US major's venture to take two ultra-deep offshore blocks just across the border from its Cypriot acreage, which would form one giant conterminous area (MEES, 13 January).
CLOCK TICKING
As for development of Cyprus' existing finds, decision time is looming with Chevron and its partners at Aphrodite set to drill a third well and submit concept selection in the coming months. Nicosia will be hoping for FID on Aphrodite within the next 12 months while decisions on Eni's new gas finds may take longer. But, make no mistake, this is the closest that Cyprus has come since Aphrodite's late 2011 discovery to realizing its lofty gas ambitions.
Time of course, is of the essence, with the window for developing its gas discoveries slowly closing as the EU pushes member states to reduce their carbon footprints. Russia's February 2022 invasion of Ukraine appears to have bought Cyprus some time though, with the EU now firmly focusing on diversifying its gas supplies and potentially extending the deadline for its net-zero carbon mandate.
While the preferred destination for its gas appears to be non-EU member Egypt, the two LNG export facilities here do provide a route to Europe. 2022 saw Europe overtake Asia as the top destination for Egyptian LNG (MEES, 13 January), while the EU last year signed an MoU with Israel, which supplies Egypt with piped gas, and Cairo, that earmarks more LNG for Europe (MEES, 17 June 2022).
Speaking this week to Bloomberg, Egypt Petroleum Minister Tarek El Molla said that Cairo is "working on boosting cooperation with Italy to facilitate exporting LNG to European markets."
GEOPOLITICAL ELEPHANT IN THE ROOM
Cyprus' gas ambitions have faced hurdles at nearly every step of the way. Around every corner and with the prospect of new drilling, Turkey has tended to pop its unwanted head. Ankara argues that any gas discovered offshore Cyprus should be shared between the internationally-recognized Greek Cypriot government in the south and the Turkish-controlled north (TRNC).
Not only did threats from Turkish warships block Eni from drilling the 'Cuttlefish' prospect in 2018 but it has harassed drillships operating in Cypriot waters at every opportunity, shooting seismic south of the island and drilling wells that lie within its dubiously claimed continental shelf (MEES, 9 October 2020).
That said, with Ankara racing to develop its own Sarkaya gas discovery in the Black Sea, Turkey has remained uncharacteristically quiet regarding Eni's Cronos and Zeus discoveries.
And, while energy policy will remain unchanged, Cyprus' foreign policy may alter with a new president.
Favorite to win next month's Cypriot elections remains former foreign minister Nicos Christodoulides who has been backed by numerous pro-partition parties. If Mr Christodoulides is elected on 12 February, that could pave the way for the legal partition of the island, in turn greatly increasing the likelihood that Ankara annexes the TRNC, creating a hard border on the island.
Though the permanent division of Cyprus would seemingly reduce the rationale for Turkish claims to waters south of the island, Turkey is a non-signatory to the UN Convention on the Law of the Sea (UNCLOS) and at times its claims have typically been outside international norms.
That said, with Turkey the top destination for Egyptian LNG in 2022, it is certainly a possibility that 'Cypriot gas' could indirectly end up in Turkey later this decade.

Key Cyprus Offshore Acreage & Drilling Activity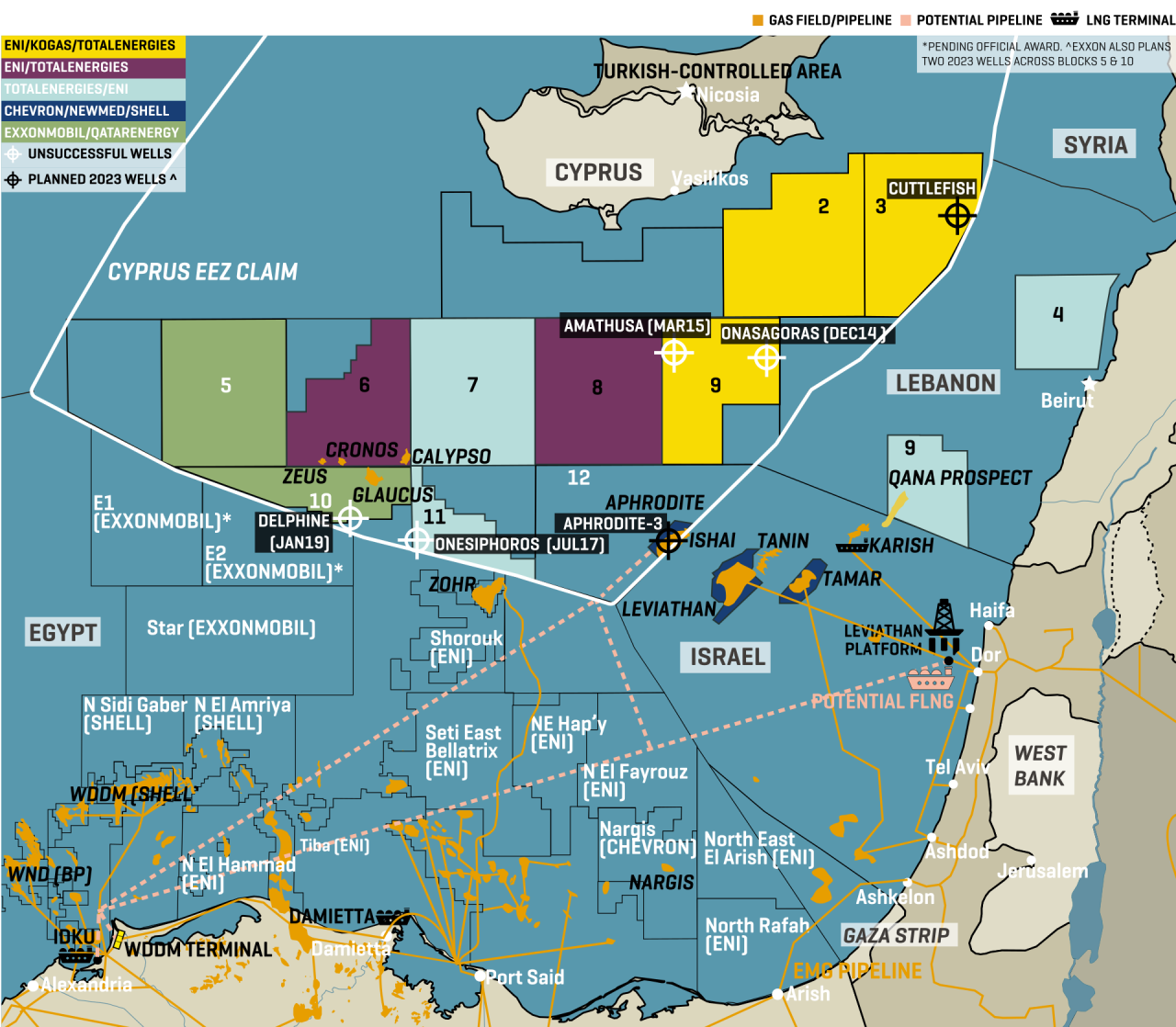 Cyprus Gas Discoveries
| | | | | | |
| --- | --- | --- | --- | --- | --- |
| | Date | Companies | Block | Size | Status |
| Aphrodite | Dec11 | Chevron(35%), Shell (35%), NewMed (30%) | 12 | 4.5tcf | 2 wells drilled to date. A3 well and concept selection due in 1H23 |
| Calypso | Feb18 | Eni (50%), Total (50%) | 6 | 1-2tcf | 1 well drilled. No plans set for appraisal drilling |
| Glaucus | Feb19 | ExxonMobil (60%), QatarEnergy (40%) | 10 | 3-4tcf | Appraisal drilling has downgraded initial 5-8tcf reserves announcement |
| Cronos | Jun22 | Eni (50%), Total (50%) | 6 | 2.5tcf | Eni & Total are eying fast-track development |
| Zeus | Aug22 | Eni (50%), Total (50%) | 6 | 2-3tcf | Eni & Total are eying fast-track development |