"When I think about the opportunities in Libya my mind goes in about 78 million directions. If you say 'Give me a good business proposal.' I can give you about ten. And every one of them is successful," Wazen Oil Services Managing Director Ibraheim Mejerissi says.
Wazen was set up in 2007 during the final years of the Gaddafi regime. Since then, Mr Mejerissi, along with his partners, has navigated war, parallel governments, oil shutdowns and more. Yet the company has grown. It started out as a supply chain business and gradually morphed into an energy engineering and oilfield services firm – one of the largest of its kind in Libya.
The firm's bread and butter is its maintenance and construction segment. This includes service agreements to carry out general maintenance work at oil facilities as well as individual projects such as storage tank replacements. Other segments are engineering services, rotating equipment, automation and control, and supply chain management.
Wazen is now active among some of the largest oil facilities in the country, including the Repsol-operated 300,000 b/d El Sharara fields, as well as state-firm Agoco's Sarir and Mesla fields which have a combined production capacity of about 250,000 b/d (see map).
A decade of near-continuous instability following the ouster of Gaddafi in 2011 has not done the country's all-important oil sector any favors. The resulting fighting, mismanagement and forced shutdowns have left infrastructure in tatters.
Pipeline leaks frequently knock out huge chunks of the Opec-member's 1.2-1.3mn b/d production capacity (MEES, 7 January). Creaking power facilities at oil fields constrain output. And insufficient storage at ports can have an almost immediate knock-on effect on production when ports are forced to close – either due to politically motivated shutdowns or simply due to bad weather.

Libya's Key Oil & Gas Infrastructure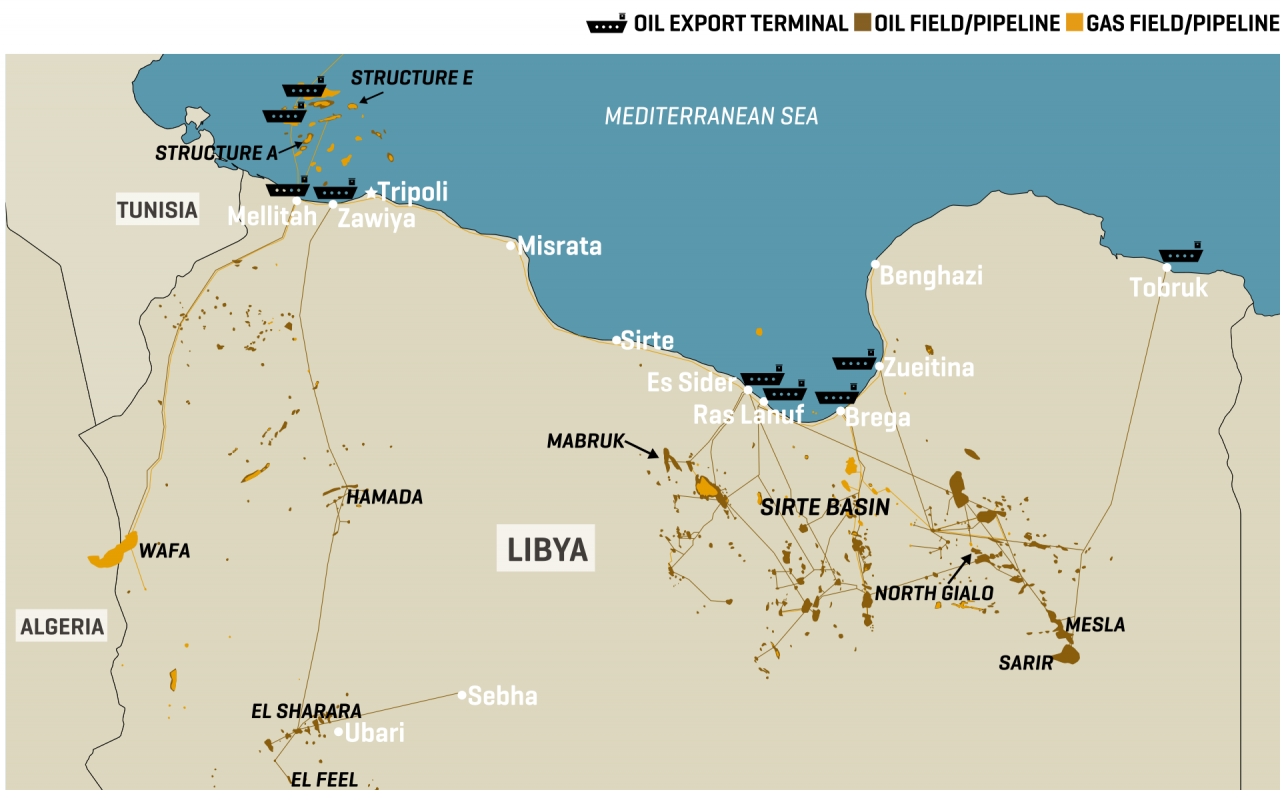 FOREIGN FIRMS WARY
Political instability and security challenges have seen foreign contractors stay away. While this continues to hamper the growth plans of Libya's National Oil Corporation (NOC), companies like Wazen have been able to step in and, partially at least, fill the gap.
Wazen is a "Libyan company with an international mindset and standards," says Mr Mejerissi who is half Scottish and was educated in the UK. His partners have similar backgrounds.
He says Wazen's focus on quality and Health, Safety and Environment (HSE) issues sets it apart from the competition. "For many companies it is like 'why bother paying for extra indirect costs?' and it's that mindset that knocks standards back a grade or two," he says. "But for us quality and HSE are integral'."
But whether local or international the vast amount of work needed to rebuild Libya's oil and gas sector means the country needs all the contractors and services firms it can get.
'THE SCALE IS UNBELIEVABLE'
"The scale is unbelievable. The country's whole infrastructure needs to be developed. Just because it is operational now doesn't mean it doesn't need fixed. Piece by piece, every pipe, vessel, tank, heater, and measurement system will need to be replaced. Everything you can think of is going to need replacement," he says.
Mr Mejerissi says he isn't too worried about the competition "for the simple reason that there's so much work for a just handful of companies to handle by themselves."
PETROFAC RE-ENTRY
Wazen, with a current workforce of more than 300, may be large by Libyan standards, but its capabilities pale in comparison to international engineering firms such as Petrofac. The UK-based company has been one of the few foreign firms to re-enter Libya in recent years.
After carrying out several engineering and Feed studies, Petrofac was rewarded with a $100mn EPC for NOC subsidiary Zallaf Oil's 16,000 b/d Erawin project in September (MEES, 2 September 2021).
"We're interested in several EPC contracts," Petrofac VP Paolo Bonucci tells MEES. "We are looking at an Eni development at Mellitah [Structures A&E], we are looking at Mabruk, we are looking at North Gialo and we are looking at Zallaf again."
The TotalEnergies-operated Mabruk field has been offline since being badly damaged by Islamist militants in 2014 (MEES, 10 December 2021); North Gialo is a potential 100,000 b/d expansion project for the Waha consortium which groups Total, ConocoPhillips and Hess with NOC.
Wazen's Mr Mejerissi says "There could be another ten Petrofacs entering the country, and we'll still have plenty of scope to operate as a Libyan oil service company without feeling a threat from the competition. We don't feel threatened because we understand the market really well, and there's so much work to be done, everything from small things to big. Your big fish are looking for the big contracts, while you have all the other fish looking to feed off of that. And then you've got the small fish like ourselves looking to do our part."
Rising upstream activity is a good thing for the likes of Wazen. Not all work gets done in-house by firms such as Petrofac, leaving plenty of opportunities to snag outsourced work.
But the key to more upstream activity and investment, according to IOC executives at least, is security and stability – something of a rarity in Libya over the past decade.
A more positive picture was beginning to emerge after the country's third civil war in a decade ended in 2020 (MEES, 12 February 2021). A new unity government replaced parallel administrations in the east and west in March, public services improved in some parts of the country and the coastal road connecting the east and west was finally reopened.
The oil sector had a much better year too. Crude oil production hit a nine-year high 1.18mn b/d in 2021, marking a major reversal from 2020's multi-decade low 340,000 b/d. This was the result of a damaging eight-month oil blockade by eastern-based General Khalifa Haftar which began in January 2020 (MEES, 29 January 2020).
UNCERTAIN OUTLOOK
But the contentious lead up to the December 2021 elections, which did not go ahead, and the resultant political limbo do not bode well for the country's peace prospects, nor the oil sector's immediate future.
Worryingly, Libya entered the new year with nearly 400,000 b/d of production forcibly shut-in by a rogue Petroleum Facilities Guard unit (MEES, 24 December). This now appears to have been resolved, with output on its way back up to around 1.2mn b/d (MEES, 14 January). But absent a strong Libyan government with buy-in from key power brokers across the country incidents such as these will continue.
As long as this is the case it is going to be difficult for NOC to cultivate the sort of investment and activity needed to reach its medium-term goal of 2.1mn b/d (MEES, 11 June). And the IOCs which are key to this target are understandably wary of such incidents.

Libya's Crude Output (mn b/d) Has Suffered Under The Weight Of Forced Outages Over The Past Decade
Wazen's Mr Mejerissi makes a stark distinction between security and political stability. "We've never felt any problems or a threat to life or a threat to assets." As a Libyan company which understands the local and wider dynamics at play, Wazen is better able to navigate such challenges than most.
"We have people working with us, we understand those environments and we're Libyans."
The 300,000 b/d El Sharara field deep in the southwest for example has been forcibly shut-in numerous times by armed groups over the past decade. Eastern and western factions have vied for control over this strategically important asset.
"We've been there as the guards have switched. And we've never ever been affected."
From a personnel safety perspective, things may be better than they seem. But such incidents do more damage than that which might be immediately apparent at a local level.
"The main issues facing the oil sector are political problems." The frequent oil shutdowns are "usually politically driven, they're not attacks. It's more about political point scoring," he says.
"Unfortunately, it really stains the image of Libya. It creates a question-mark [for firms] 'as to whether they should invest here or not? It prevents other international companies from coming in."
For Wazen and others, local or international, shutdowns create financial troubles. When the oil isn't flowing payments to contractors start drying up.
"So if you ask 'What's your biggest obstacle in carrying out a project?' I would say it's not about whether employees are safe or not, it's more about the cash flow and the impact delayed payments have on operations ... shutdowns create financial issues and delayed payments."
Mr Mejerissi says that shutdown incidents cause insurance premiums for his employees to go up. This puts further strain on cash flow, which, alongside an already challenging logistical environment in Libya's remote south, can make projects unviable.
Libya has seen several large oil shutdowns over the past decade. The biggest one lasted from 2013 to 2016 and saw country-wide output drop to as low as 380,000 b/d. General Haftar's 2020 blockades were shorter in duration but wider in reach.
CORROSION
For many Libyans the 2013-2016 shutdown was at least partly justified by allegations of corruption related to oil revenues. That the oil taps were turned off wasn't the end of the world – the oil would remain underground to be sold another day, or so the thinking went.
"But we're understanding the implications and the impact of that shutdown today. The oil [output] wasn't shut down in the correct manner. Anti-corrosive inhibitors should have been fed through the tanks and the pipes to maintain the health of the steel. You have to remember that processing oil is highly corrosive, and metals corrode," Mr Mejerissi says.
Oil was left in the pipelines and tanks for years, gnawing at the surrounding metal. Most of the leaks occurring today are down to that shutdown.
When production restarted again, Libya's outdated monitoring systems were unable to detect the severity of the problem. "We weren't finding out about many of the leaks because the monitoring systems were generally not up to the levels that they should be. So there were leaks everywhere and we were not realizing it."
Often serious corrosion incidents were only identified after foreign crude buyers highlighted problems with the quality of their Libyan cargoes. High levels of mercury in certain grades, which can damage refineries and are thought to be a consequence of corrosion caused by shutdowns, have deterred some buyers (MEES, 17 September 2021).
POWER PROBLEMS
Even when there are no politically imposed limits on production, Libya's output can be constrained by faulty machinery and a lack of spare parts.
Insufficient power at fields, for example, can seriously limit production. Many of the turbines which power oil and gas field operations are in dire need of overhauls and maintenance. But the foreign engineers that are supposed to carry out this work have stayed away.
Many turbine manufacturers – Germany's Siemens and GE of the US are the big two internationally – argue the security situation makes it difficult for them to fulfill servicing contracts and warranties on their equipment. But if Libyan engineers work on the turbines, they risk rendering the warranties invalid.
Wazen says it is looking to fill this "service gap" through partnerships with manufacturers. The idea is that Wazen, approved by a manufacturer, would carry out the work itself through a service contract. As such, the manufacturer would be adhering to its warranty without having to send anyone to Libya. And the client would be getting its power fixed.
NOC in 2019 estimated that about 125,000 b/d of production could be recovered by boosting power generation capacity (MEES, 22 November 2019).
SHIPPING STRAINS
Companies operating in Libya face all sorts of challenges – some of them specific to the troubled North African country. One key aspect highlighted by Mr Mejerissi relates to supply-chain obstacles.
Libya's poor international reputation makes it difficult for domestic companies to source much-needed products and spare parts. Mr Mejerissi says Germany – an important manufacturer of industrial products – has proved a particular headache.
The export of certain goods to Libya is subject to rigorous checks from the German authorities, something that can seriously delay procurement. On top of that, some banks – Deutsche Bank is one example – reject payments from Libya, according to Mr Mejerissi. "If they bank with Deutsche Bank we try to avoid them because there's going to be delays."
There has also been a recent rise in shipping-related delays, he adds, with sudden route changes sometimes delaying shipments by several weeks – perhaps due to a tighter international cargo shipping market enabling vessel owners to prioritize less 'risky' destinations. "Before, that never used to happen. A ship coming would be a ship coming," Mr Mejerissi says.
"So procuring equipment and shipping it to Libya has become harder and ten times harder ever since Covid." Such delays put strain on companies in Libya working to contractual deadlines.
CASH FLOW CONSTRAINTS
One key factor hampering further upstream activity in Libya is related to payments to contractors, according to Mr Mejerissi. "Cash flow is one of the biggest obstacles in operating in Libya."
He says his company regularly gets asked by operators to take on more work. But not knowing when you might get paid is a big turnoff. "All we need is for the NOC to guarantee payments within 30 days from which we can make a cashflow plan and then know what we can and can't do in terms of growth."
NOC itself has been struggling with funding issues for years, due to what it says are insufficient budgets from the government. Many of its subsidiaries are unable to meet their financial obligations, which has at times resulted in production outages (MEES, 30 April 2021).
Then there's the sluggish tendering process. Awards can take up to two years from when a company makes a bid on a project. "Prices go up [between the initial bid and the ultimate award]. Things happen. And so our margins have taken a hit in some projects, we've really had to be lean and streamline our operations."
This is related to several layers of approvals needed before an award can be made. The process could be sped up, argues Mr Mejerissi, if a system was put in place where NOC would pre-approve certain projects, and firms as technically capable.
One factor seriously hampering the growth of a local oilfield services and broader SME sector is Libya's "non-existent" banking sector. "For any company to exponentially grow, it needs a very strong financial backbone to support it. And that's something that we're currently lacking from the banking sector."
"It's alright to say, 'the banking system is no longer dealing with interest, it needs to be 100% Islamic.' That's fine, but we need to bring in the Islamic financing so we can get on with our operations but that second part has not happened."
And any services offered by banks comes with extremely high fees. "They're almost like partners in a project. If they take about 3% of the contract value to open this [a letter of credit, for example], that's about 15% of the profit or 20% of the profit [of a project]. And you're like 'gosh, they're making more than us just on banking fees'."
These high-fees and the lack of financial packages for businesses dissuade firms from investing. There is clearly an opportunity for the banks to offer more competitive, tailor-made loans to support the private sector. "Our growth is your growth," says Mr Mejerissi.
OPPORTUNITIES IN LIBYA
For a country that has been closed to the world for much of its modern history and rocked by war and division for the past decade there are plenty of business opportunities both for local and international firms.
First, the oil and gas sector's infrastructure needs rebuilding. And there is clear opportunity for Libya here: rebuild in a green manner, reduce the carbon intensity of production. This was one of the key messages from a recent Libya energy forum (MEES, 3 December 2021).
"The opportunities in Libya are massive. Not only in oil sector. Oil is a short-term commodity that the world is wanting to wean off. Libya has gas, huge amounts of gas, as well as huge solar potential. All these companies that want to switch from oil to greener energy, will still need service companies and companies that understand the market," says Mr Mejerissi.
Then there's the country's own non-existent manufacturing sector. Libya is reliant on imports for almost everything. From food to cars to pipelines. Everything gets imported.
"Nothing is done in-house. We don't make our own pipes even though we have large metal ore reserves and a steel manufacturing plant in Misrata. It's just not tied in. And there's so much that could be tied in. We could be a self-sufficient country. We could make our own gaskets, pipes, and vessels ... Libya is just like a place to go make money," says Mr Mejerissi.