Iraq's Ministry of Oil and Total are progressing towards finalizing a huge $7bn agreement which would transform the French major from a relatively minor player in the country's energy sector to being key to Iraq's expansion and diversification plans.
The partners signed a preliminary "principles agreement" on what Oil Minister Ihsaan Ismaael labeled four "giant projects" this week. The list includes key projects Iraq has been seeking to award for years, as well as more recent ambitions. Both parties appear confident a deal is within reach, but Iraq has appeared on the brink of major energy infrastructure deals before without quite being able to get over the finish line.
The planned projects cover some of the Iraq Oil Ministry's key strategic priorities – namely increased gas capture for power plants, and the emerging priority of renewable energy. The framework also covers a scaled-down development of the long-delayed Common Seawater Supply Project (CSSP) which Iraq has been trying to get off the ground for more than a decade and which is essential for production capacity gains from the key oil fields in Basra province.
Total will also secure the rights to develop Basra's Ratawi oil field, although negotiations on the commercial framework will be key. IOCs, including Total, have long criticized the slim margins offered by Iraq's much maligned Technical Service Contracts (TSC), and Iraq's efforts to reform its contract models have struggled to gain traction.
In covering oil, gas and renewable energy the package on offer certainly appears to fit the preferred model of Total CEO Patrick Pouyanné: combine near-term oil and gas investment with a shift to renewables over the mid-to-long term. "I'm proud to be black and green… because if I don't have the black part, which is delivering cash flows, I cannot grow the green part," the CEO said earlier this year (MEES, 12 February).
GAS: BIG AMBITIONS, SLOW PROGRESS
The preliminary contract was signed in Baghdad, with Mr Pouyanné visiting after calling at Abu Dhabi to to mark the start of trading for the Murban futures contract (MEES, 2 April).
On the gas front, Total will work on the 600mn cfd Ratawi South Gas Project which will collect and process associated gas from five fields in Basra province. Four of these – Ratawi, Luhais, Tuba and Majnoon – are operated by the state-owned Basra Oil Company (BOC), while the fifth is Lukoil's West-Qurna 2 (see map).

Southern Iraq: Oil Fields & Gas Processing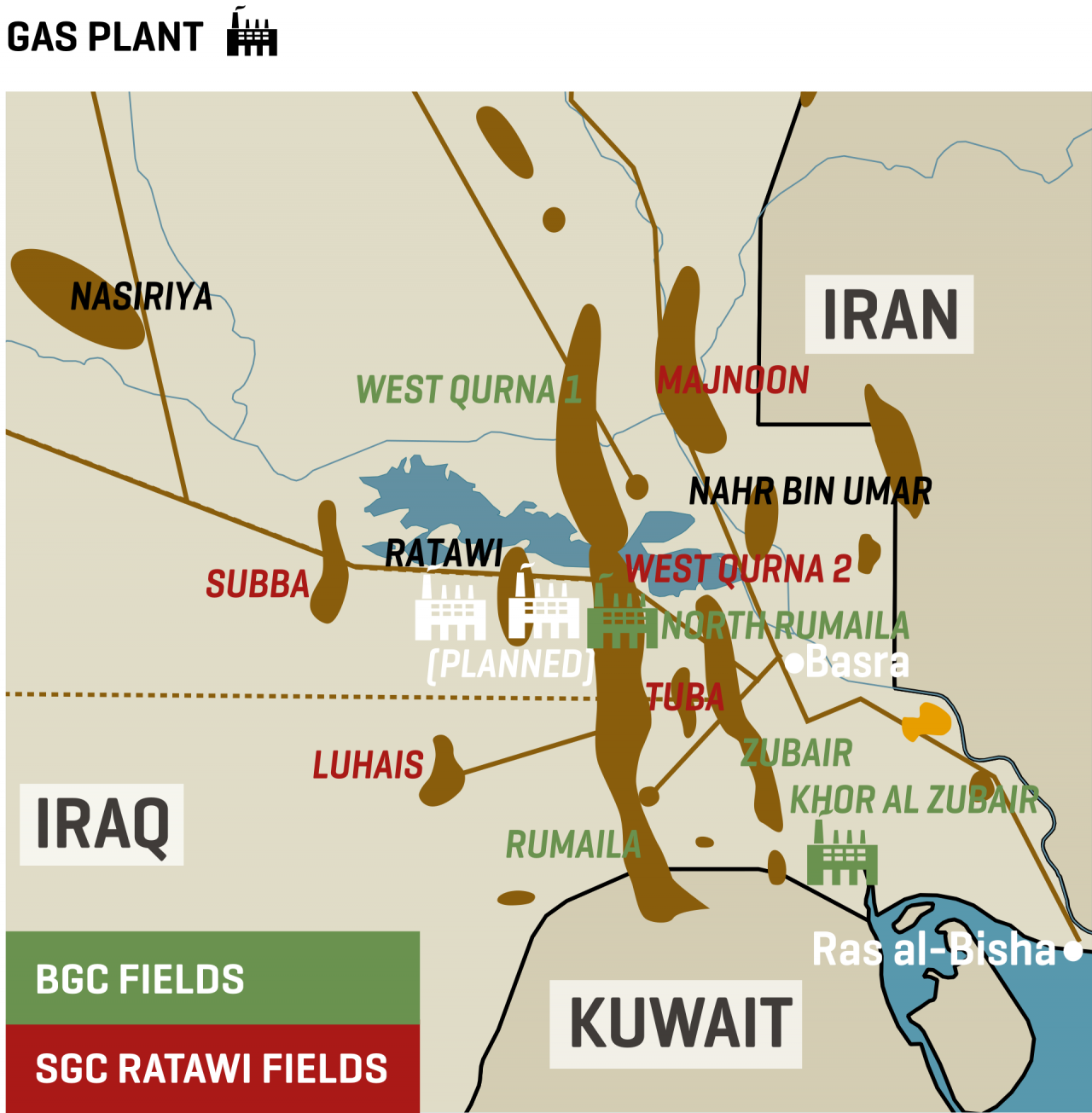 Delivered in two phases, the first "will involve building gas processing facilities for an initial phase of 300mn cfd from Ratawi, Luhais, Tuba and West-Qurna 2 fields, followed by a second 300mn cfd phase" according to Hamid Younes, Iraq's deputy minister of oil for gas affairs. The implication is that the second phase will entail processing of 300mn cfd from Majnoon.
Gas capture at these fields falls within the jurisdiction of Iraq's South Gas Company (SGC). Total will "deliver the central gas processing facility in Ratawi" according to Mr Ismaael
SGC Director General Hamzah Abdulbaqi highlights that "this project will augment the national gas network with 500mn cfd" that will be supplied to power plants after processing for LPG and condensate.
The announcement appears to bring to a close US firm Honeywell's effort to secure the gas project. Honeywell signed an MoU with SCG in July 2019 for what had been a smaller 300mn cfd project, one month after a senior official had said that a consortium of Honeywell UOP, Bechtel and Turkey's Enka was in pole position to win the contract (MEES, 19 July 2019).
Honeywell had the backing of the US Department of State, but MEES understands its initial partnership with Bechtel and Enka fell apart over financial disagreements. A second preliminary contract for Ratawi was struck last year during Prime Minister Mustafa al-Kadhimi's high profile August 2020 visit to Washington, with Honeywell considering partnering up with Saudi Arabia at Ratawi (MEES, 28 August 2020).
Iraq suffers from acute gas shortages as 50% of gross gas produced is routinely flared (see chart), with almost all of the remaining 1.29bn cfd sales gas output used for power generation. To cover the gap Baghdad imports 750mn from neighboring Iran in addition to more than 1,250 MW in electricity, but power provision is still lacking.

Iraq's Gas Flaring Has Fallen But Still Accounts For 50% Of Gross Output (bn cfd)
SOURCE: IRAQI OIL MINISTRY, MEES.
The bulk of Iraq's gas processing capacity lies with the Shell-led Basrah Gas Company (BGC: South Gas Company 51%, Shell 44%, Mitsubishi 5%). BGC processes gas from the BP-operated Rumaila field, Eni's Zubair and Exxon's West Qurna-1. BGC in 2019 took FID on a 400mn cfd two-train expansion project to boost its processing capacity to 1.4bn cfd (MEES, 15 February 2019). Also located at Ratawi, this is due to be finished by end-2023.
Finalization of the Ratawi South Gas Project would be a major boost for Iraq's plans to fully eliminate gas flaring. The deadline for this ambition was last year pushed back from 2021 to 2025 in an acknowledgement of slow progress on various projects (MEES, 28 August 2020).
Nevertheless, during a high-level delegation visit to Saudi Arabia this week, Mr Ismaael was far more optimistic. Not only will Iraq eliminate flaring by 2025, but it will also boost gas production from around 3bn cfd currently "to a level between 4 and 5bn cfd." The likelihood of this being achieved appears very slim.
As Iraq pushes to expand its gas capacity, there are a range of other gas projects up for grabs in "Maysan, Dhi Qar, Akkas in Anbar and Mansuriya in Diyala" according to Karim Hattab, the oil minister's deputy for upstream affairs. Baker Hughes finally inked a contract to process 200mn cfd in Dhi Qar's Nasiriyah field in January (MEES, 29 January) replacing a previous contract signed three years prior (MEES, 3 August 2018).
Baghdad is struggling to kick-start development of two non-associated gas fields, Mansuriya and Akkas, with planned combined capacity of 500mn cfd. The ministry has given up on majors taking the fields given security concerns (MEES, 19 February) and hopes to bring in "second tier" companies.
WATER FOR OIL
One of the reasons Iraq's wellhead gas output hasn't progressed much beyond 3bn cfd is because essentially all of federal Iraq's output is of associated gas, and plans to expand crude oil production have fallen short. For instance, BGC originally expected to be able to process 2bn cfd of associated gas from its three fields before production plateau targets were revised down (MEES, 24 July 2015).
Current crude production capacity stands at around 5mn b/d, enough for No.2 spot in Opec, but a far cry from previous plans to reach 12mn bd/ (MEES, 23 October 2020). Mr Ismaael last year pushed back the country's current 7mn b/d target from 2025 to 2027 (MEES, 21 November 2011). During his Riyadh speech he called for 8mn b/d by 2029.
A key reason expansion targets are being missed is Iraq's inability to finalize a contract for the key Common Seawater Supply Project (CSSP), upon which many fields are reliant on to boost capacity beyond current levels. If Iraq is to get anywhere near the latest 8mn b/d target, development of CSSP is essential.
First pitched to Exxon Mobil alone in 2010, the megaproject which includes complex facilities and pipelines to pump and treat seawater from the Gulf to southern oilfields fell prey to changing terms, failed negotiations, and eventually scandal as Exxon entered the KRG in 2011 (MEES, 22 March 2010). The next nine years saw it packaged under a $53bn Southern Integrated Infrastructure Project (SIIP) that was almost finalized with ExxonMobil and PetroChina but also fell apart (MEES, 10 May 2019). Both companies were expected to finance SIIP components by increasing oil output from the Nahr Bin Umar and Ratawi fields from 100,000-125,000 b/d to 500,000 b/d.
In 2018, when heading BOC, Mr Ismael said Phase-1 would include 5mn b/d of treated water by 2023 rising to 7mn b/d at a later date (MEES, 12 October 2018). Now, Total will be working on a "2.5mn b/d initial phase" according to Mr Abdulbaqi.
Despite being smaller than previously planned, moving the CSSP forward is vital to sustain production from key producing fields like Rumaila, Zubair and West Qurna. These provide the bulk of Iraq's oil production and exports.
While the commercial terms have not been disclosed, it seems that the mechanism offered to Total is not so different in principle to that offered to Exxon and PetroChina. But instead of taking both Nahr Bin Umar and Ratawi, Total will only develop the latter.
Ratawi production capacity currently stands at 60,000 b/d, but under the preliminary agreement, Total will expand it to 200,000 b/d.
The unattractive commercial terms offered under Iraq's TSC's "where the margin per barrel was very low" were attributed previously by Total's CEO Patrick Pouyanné as a reason for the firm's small footprint in the country.
Total's only existing project in federal Iraq is a 22.5% stake in the 400,000 b/d PetroChina-operated Halfaya field. It also, following the March 2018 acquisition of the oil and gas unit of Denmark's Maersk, holds an 18% stake in the Sarsang block in Iraqi Kurdistan operated by US firm HKN (MEES, 26 March). Sarsang has been running at a record 31,5000 b/d in recent months.
The French major's approach to Iraq began to change under the previous Iraqi administration. Total's upstream chief Arnaud Breuillac told MEES in 2018 that the firm was "looking forward to maybe doing more in Iraq… but with more mutually profitable contractual terms" (MEES, 23 November 2018).
Despite the subsequent change in administration, Total has continued to push towards deepening its Iraq ties. In January Mr Pouyanné toured Basra oilfields with Mr Ismaael and signed an MoU to examine cooperation on "large and promising projects" (MEES, 29 January). On 17 March, Mr Ismaael spoke with two senior Total executives – recently appointed Middle East upstream chief Laurent Vivier and Total's Iraq manager Dunia Chalabi (MEES, 26 March). The ministry's press statement indicates that negotiations began in October 2020, just a month after French President Macron's visit to Baghdad where he met Iraq's President, Prime Minister and Speaker of Parliament.
Iraq fits well with Total's transition agenda: the country offers considerable opportunities in both hydrocarbons and renewables. Mr Ismaael's focus on integrating clean energy into negotiations with foreign investors since taking over as minister appears to be paying off. Mr Ismaael has set a highly ambitious target of solar contributing 20% of Iraq's electricity production by 2030.
In February, Baghdad finally advanced its first-phase 755MW solar projects with an unexpectedly competitive lowest bid of US¢3.61/kWh (MEES, 26 February). Now, 1GW is to be added by Total. It is not clear yet how Iraq's ailing power network would accommodate the intermittency of 1.75GW of solar power.
IS IT A DONE DEAL?
Mr Ismaael said that the "memoranda for all four projects have been signed" and that agreement on the commercial and technical frameworks "is almost done," with the only caveat that "the whole matter will be subject to approval by the Council of Ministers." But Mr Pouyanné is notably more cautious: signing the agreement is "an important step with others to follow until cabinet approval." "We are serious about implementing this project," the ministry's press statement quotes him as saying.
A potential obstacle to finalization is that Iraq is gearing up to what are expected to be fractious parliamentary elections in October. Iraq's parliament was only this week able to finally pass the 2021 federal budget after a marathon of negotiations amid political attacks.
The risk is that resource nationalism could play a major role in politicking, and major awards to foreign energy companies could come under attack.
Iraq's current government is largely seen as US-backed, but the next administration could be more aligned with neighboring Iran. Even if the government is able to finalize an agreement before elections, the experience of the fifth licensing round contracts show that the next administration could freeze progress.
Still, Total should fare better than US firms with any such administration, especially as it has proven willing to work with Iran through signing up to develop Iran's South Pars Phase 11 project in 2017 (MEES, 7 July 2017), even if ultimately it withdrew in 2018 due to US sanctions (MEES, 24 August 2018).