From a sheer output perspective Libya is at its best in years. The country's "25/7" oil supremo Mustafa Sanalla has managed to boost output to near-1.3mn b/d – a six-year high - and he's done this amid a disruptive battle for the capital, Tripoli.
But make no mistake, Libya is punching well below its weight. In the five years leading up to the 2011 'revolution' the country's output averaged 1.65mn b/d (see chart).
Mr Sanalla, the National Oil Corporation (NOC) chairman, in a wide-ranging exclusive MEES interview in Vienna on 30 June (see transcript, MEES, 5 July) said "we have more than 300-400,000 b/d spare capacity. But to achieve this we need to invest and work on the abandoned wells." Referring to pre-war output as "spare capacity" might seem a little odd, then again, little has been normal in Libya since 2011.

Libya's Crude Output ('000 b/d) Hit A Six-Year High 1.26mn b/d in March Before Dropping To 1.08mn b/d in June*
SOURCE: MEES.
Mr Sanalla is suggesting that with minimal investment and work, Libya could quite quickly reach pre-war output levels. Until a few months ago NOC targeted 1.6mn by end-2019. But this all changed after eastern-based General Khalifa Haftar launched his "Operation Flood of Dignity" to take Tripoli from the internationally recognized Government of National Accord (GNA) (MEES, 5 April). The current target is 1.4mn b/d.
'HOSTILE ENVIRONMENT'
"It is not an easy job in this hostile environment – a lot of work has been postponed or suspended because of the [recent] war," Mr Sanalla says. Since the hostilities began in early April, NOC infrastructure has been used for military operations, fuel supplies and workers have struggled to reach oil fields and four NOC facilities have come under direct fire. Islamic State (IS) has also resurfaced, claiming a number of attacks over the past few months (MEES, 24 May).
On 18 May, IS staged an assault on the Zueitina (OMV 50%, NOC 50%)-operated Zella field in the Sirte basin. "Unfortunately, the attack on Zella last month [May] jeopardized our operations," Mr Sanalla says. Further north the 40,000 b/d-capacity Total-operated Mabruk and the nearby Bahi field of the Waha consortium are still shut-in – these were badly damaged by IS four years ago (MEES, 6 March 2015).
Restarting fields shut-in due to conflict since 2011 is one of NOC's top priorities: such fields provide a key element of NOC's envisaged 300-400,000 b/d output boost. Mr Sanalla lists key offline fields as Dahra [Waha], Ghani [Harouge], Zenad [Harouge], and Bahi [Waha] as well as several Zueitina-operated fields, including Zella, on Blocks 74A, B and F. "There are many mercenaries over there causing trouble. They have looted facilities, they have burnt cables and stolen copper," Mr Sanalla says.
NOC has been trying to carry out maintenance work in the area but the Zella attack forced the company to abandon plans. Mr Sanalla's frustration is obvious. Referring to Zueitina's block 74 he says "especially on certain fields over there we can build early production facilities. The fields are still young which means they can still produce oil by gravity, rather than by pumping." Mr Sanalla adds that Harouge's nearby Ghani field could easily produce 10,000 b/d with minimal work (see map).

Libya: Key Oil & Gas Infrastructure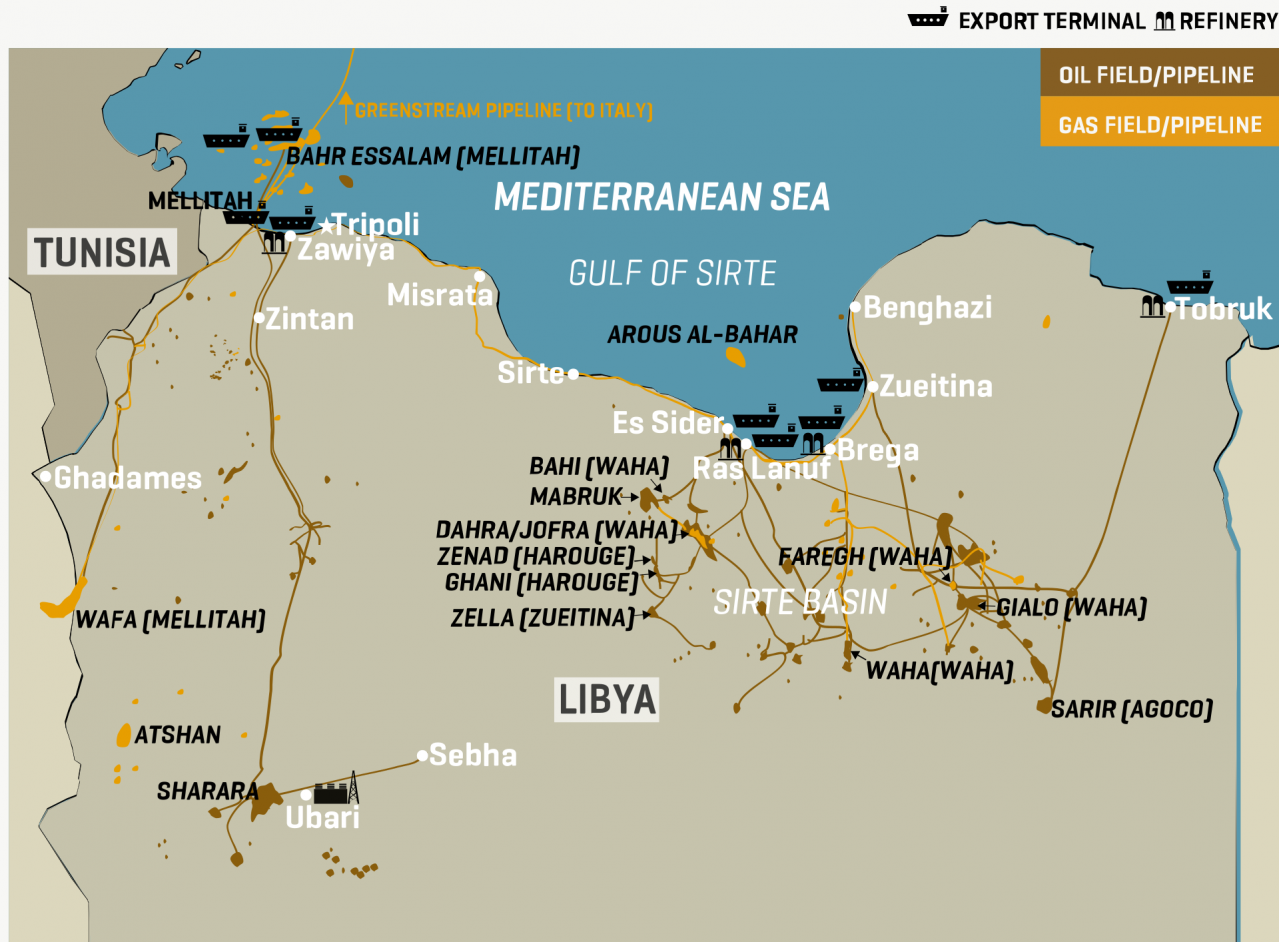 Restoring pre-war output capacity is just one part of NOC's five-year plan to reach 2.1mn b/d by 2023. Amid a multitude of challenges Mr Sanalla is also planning for the future. Simply put, this requires stability and investments. But two big deals that promise to do just that are still on hold.
WAHA STANDOFF
The Waha consortium traditionally grouped NOC with three US firms: ConocoPhillips (16.33%), Hess (8.17%) and Marathon (16.33%). As far as Marathon is concerned it quit in March 2018, selling up to Total. At the time Total CEO Patrick Pouyanné talked of doubling Waha production – output stood at 233,000 b/d in 1Q 2019 with 190mn cfd of gas. The inference here is that much-needed cash would be spent on exploration and development. But 16 months later NOC and Total still haven't reached an agreement. NOC at the time argued it hadn't approved the transaction, thus voiding the deal.
ENI/BP DEAL 'NEEDS A LOT OF WORK'
Another key development was the October 2018 deal between NOC, BP and Eni. The agreement would see Eni take half of BP's 90% stake in two onshore and one offshore exploration block (MEES, 12 October 2018). At the time, drilling was planned as early as Q1 but little has happened since and a final agreement is yet to be signed.
"Yes, we were working on this one but unfortunately the Italians drew out their staff from Libya. But we will have a meeting with BP in London hopefully at some point next month so we will see what to do on this. This deal has also unfortunately been affected by the war," Sanalla says. "We just signed an MoU. It needs a lot of work in the future, we still have to fix many, many issues before we sign," he adds.
NEW CONTRACT MODEL
To encourage more outside investment the NOC chief says they are currently reevaluating their contract models. "We want to create a low-risk model for our partners. So, we will do something that will work well for them," Mr Sanalla says, adding that "maybe we will have a production services agreement and some other model."
The last iteration of Libya's contract model was the tough EPSA IV. Even when discoveries were made, the stringent terms meant that fields were uneconomical to develop (MEES, 31 May 2013). Hess' 2009 offshore Arous Al-Bahar 5-7tcf gas find remains undeveloped, for example.
But Libya's upstream sector is not all doom and gloom. The offshore Bahr Essalam Phase 2 project is pretty much complete – only one well remains. The project has seen Mellitah Oil & Gas (Eni 50%, NOC 50%) boost output from Bahr Essalam from 700mn cfd to 1.1bn cfd.
"The only good news we have at the moment is from the offshore," Mr Sanalla says, adding that "the offshore situation is more promising since it doesn't require staff to be onshore. As you know, Eni and Repsol drew their staff out after the attack on Tripoli [in April]."
$5.6BN MEGAPROJECT
High off their Bahr Essalam success, NOC and Eni are now pushing forward with a $5.6bn "megaproject" to add a further 760mn cfd from two offshore fields – 'A&E structures' – which lie on the same NC-41 block (MEES, 29 March).
Mr Sanalla hopes 'structure A' will come online in the second half of 2022 to eventually reach 160mn cfd and 7,000 b/d of condensate from eight wells. The gas would be piped to Bahr Essalam's Sabratha platform and then sent to the onshore Mellitah processing facilities.
A new production platform would be built for 'structure E,' and send around 600mn cfd and 28,000 b/d of condensate from 23 wells to Mellitah. Start-up is planned for 2024. An MoU to create a joint steering committee for the project was signed between Eni and NOC in March.
While Libya's gas output has been on the slide since 2013's 1.79bn cfd, coming in at 1.34bn cfd in 2018, production is set for a boost in 2019 (MEES, 29 March). As well as adding 400mn cfd from Bahr Essalam, Mellitah is working to prolong plateau production at its Wafa field through a compression project and drilling three infill wells – Eni says it hopes to wrap up the work by end-2019.
Mr Sanalla says the first well is complete, the second is ongoing but due to the war they are experiencing fuel supply shortages for the third. "Wafa is near Ghadames - in the middle of nowhere," he adds, referring to logistical challenges.
Wafa is not the only gas project experiencing difficulties. Waha's long-delayed 'Faregh Phase-2' gas project, which was originally set to go online with 180mn cfd and 15,000 b/d of condensate 10 years ago (MEES, 7 June), has been pushed back again from its May start-up date. "This will hopefully be ready by September; this was also hindered by the war and was postponed," says Mr Sanalla.
NOC has set up a special committee to identify all of the country's prospects with a view to setting out a development plan. As ever, this will depend on the security situation. There is no guarantee things will improve any time soon, however. In fact, Mr Sanalla said at the Opec meeting on 1 July that 700,000 b/d of output was at imminent risk.
WAR. WHAT IS IT GOOD FOR?
Mr Haftar's Tripoli gamble has so far failed to pay off. After losing its forward base of Gharyan on 26 June, his Libyan National Army (LNA) vowed to step up attacks. The mountain town of Gharyan was strategically important for the LNA – its loss means its supply lines will suffer.
"After exhausting all the traditional means in the battle for liberating the rest of Libya… the LNA's air force started to carry out strong and decisive airstrikes on select locations," LNA air force commander Muhammad Manfour said on 1 July.
The LNA, which is mainly backed by Egypt and the UAE, is furious over Turkish supplies of weapons to the GNA and on 28 June cut all ties with the country. LNA spokesman Ahmed Mismari said that Turkish aircraft and ships arriving at ports in Libya would be treated as hostile. On 30 June the LNA said it destroyed a Turkish drone at Tripoli's Mitiga airport.
On the same day, Turkey said six of its citizens were being held by Mr Haftar's forces and warned that the LNA would become a "legitimate target" unless they were released – they were freed shortly after.
LNA's inability to "liberate" Tripoli is increasing calls within the eastern-based parallel administration to shutdown oil output. Chief among them is Aguila Saleh, speaker of the eastern-based House of Representatives who last month accused the GNA of using oil revenues to fight the LNA.
Mr Haftar controls the overwhelming majority of Libya's oil fields, as well as five of the country's nine export terminals but all oil and gas revenues are accrued by the Tripoli-based central bank.
THREAT OF DIVISION
The eastern-based administration also wants a piece of the pie. To fuel the war effort, a parallel NOC based in the eastern city of Benghazi has been desperately trying to sell crude independently of the Tripoli-based internationally recognised NOC. So far, they have failed. But Mr Sanalla is extremely concerned.
The 'eastern NOC' has tried and failed to sell crude twice before but isn't giving up. Mr Sanalla says, "if they succeed in exporting oil, Libya will be divided for sure."