Amid rumors of an imminent move on Tripoli by General Khalifa Haftar, UN envoy Ghassan Salame on 20 March announced a long-delayed Libyan national conference for 14-16 April that, if successful, would unite rival governments and set a way out of the seemingly unending eight-year transitional period.
The upcoming conference was actually agreed in Italy's Palermo in November, but the real impetus for the UN's reconciliation drive is the eastern-based Libyan National Army's (LNA) sweeping gains in the south (MEES, 1 March). With momentum on his side, Mr Haftar sent some of his LNA units close to areas 'ruled' by Fayez Sarraj's internationally-recognized Government of National Accord (GNA) based in Tripoli.
The GNA doesn't control much other than revenues accrued by the country's National Oil Corporation (NOC) and the capital is dominated by several militias which have divvied up Tripoli and pillaged its riches.
On the other hand, Mr Haftar's eastern-based rival forces now directly or indirectly control most of Libya, including the majority of the country's oil and gas fields, export terminals and energy infrastructure (see map).

Libya: Key Oil & Gas Infrastructure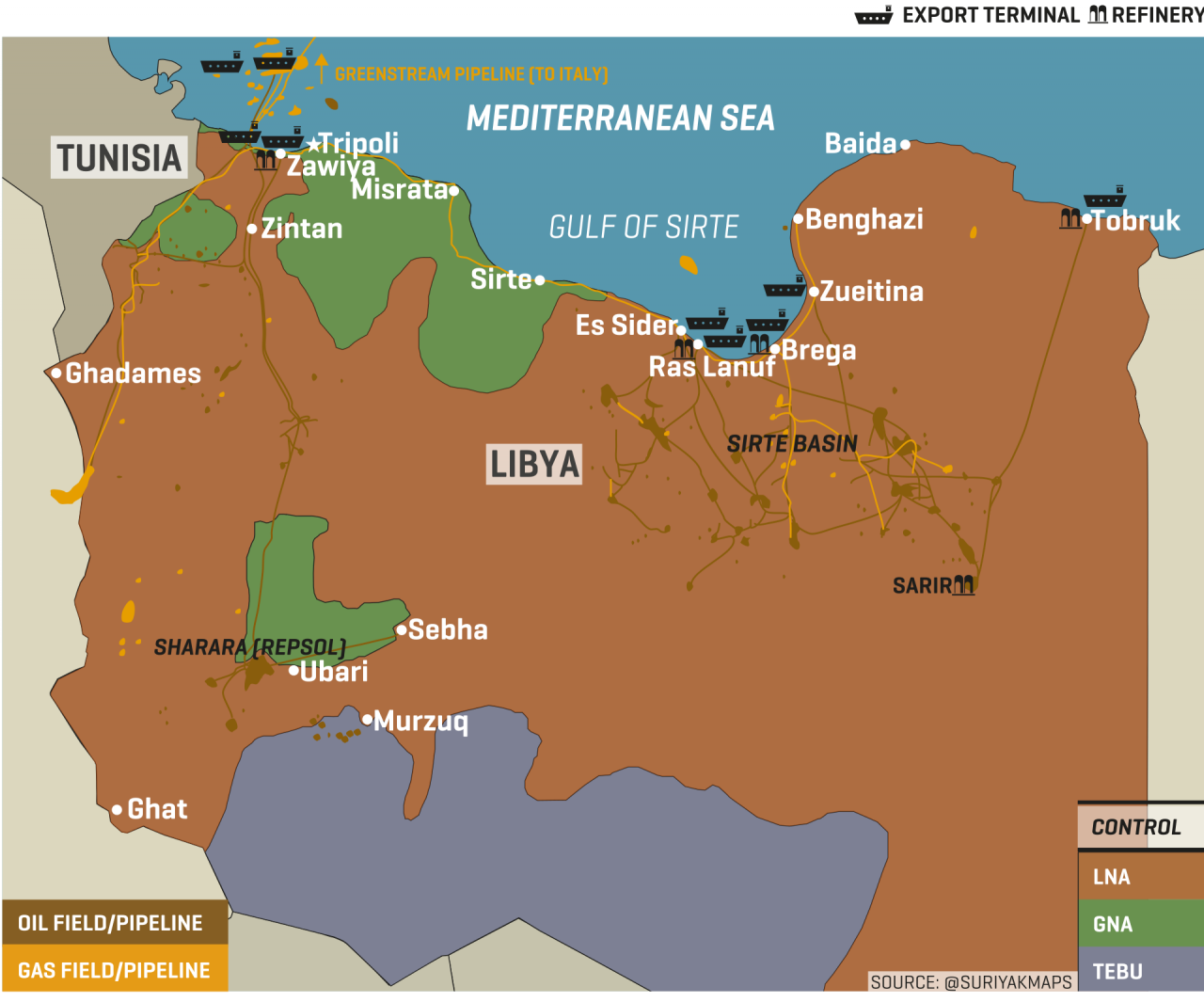 SHARARA OUTPUT RISING
The LNA's biggest coup during its operation to 'secure' the lawless south was its takeover (MEES, 15 February), and the eventual restart of Libya's largest oil field El Sharara (MEES, 8 March), shut-in by an armed group and protesters on 9 December.
The almost three-month debacle cost the oil dependent country about $1.8bn in lost revenues, slashing output by around 300,000 b/d. But the restart of operations at Sharara – currently pumping around 270,000 b/d – has brought overall output to around the 1.2mn b/d mark – a level last reached in October (MEES, 23 November 2018).
NOC head Mustafa Sanalla says "staff are working very hard to increase production … unfortunately many wells were damaged by sabotage." He adds, in an 18 March interview with Bloomberg, that the LNA's lifting of a no-fly zone would expedite maintenance work. If NOC is able to ramp up output further, March production could surpass 1.1mn b/d.
Mr Sanalla has long talked about his desire to bump output to around 1.6mn b/d in 2019, but this is a formidable challenge. Years of underinvestment, sanctions and civil strife have translated into hundreds of offline wells, damaged storage tanks and leaky pipelines.
NOC lacks the expertise and the cash to tackle these problems on its own. In short, it needs IOCs to return and start injecting cash. However, events like the Sharara shutdown dissuade firms active in the country such as Eni, OMV and BP from investing (MEES, 15 February). Stability is the name of the game, and this is exactly what Mr Haftar has been trying to market to the outside world.
Save for the occasional threats of exporting crude on its own (MEES, 29 June 2018), over the past few years Mr Haftar's eastern-based forces have repeatedly battled and won control of the country's oil and gas fields in the Sirte basin and export terminals from armed groups.
While Mr Haftar's recent gains have raised the prospect of a forced unification, powerful militias in the west opposed to rule by a strong military figure and LNA's overstretched supply lines highlight the formidable obstacles in the way. The LNA still faces resistance in the areas it controls and some troops stationed in the south have been redeployed elsewhere, weakening its already tenuous hold.
This is why the upcoming national conference gives him a chance to institutionalize his recent military gains and solidify his position against adversaries that have little left to offer.
The roadmap as it stands would see the eastern and western governments, plus their associated institutions set a date for parliamentary and presidential elections, decide on whether to approve a draft national charter and work out a way to deal with a draft constitution drawn up by a constitutional assembly. It would also see military forces come under civilian control, something the 75-year-old general might accept on paper only.
One thing is clear: unless the conference brings Mr Haftar closer to his goal of ruling Libya, the eight-year transitional limbo will carry on.