Q: How has Covid-19 and the related oil price crash affected Algeria's upstream sector?
A: The most immediate impact was felt at our ongoing projects, which were hit by restrictions on employee mobility and the delivery of important parts and equipment, causing delays.
Another impact was the reduction in crude oil production, in accordance with the agreement reached by Opec and its partners. This agreement came following the spread of the epidemic which led to a collapse in oil demand of around 30% in April 2020, when the market was already out of balance, causing an unprecedented drop in the price of oil by around 60% in mid-May compared to early March 2020.
As a result of the dual impact of lower prices and production, we asked Sonatrach to revise its investment forecasts for 2020 and 2021, by reducing production costs and postponing non-priority projects.
Further reading: Algeria's Sonatrach Halves Planned 2020 Spending
Q: How does Algeria plan to attract fresh investment in its upstream sector in the challenging Covid-19 era marked by the lower availability of capital?
A: Despite the difficult context, Algeria still has major assets which continue to interest players on the international energy scene.
Alnaft [Algeria's state energy regulator] and Sonatrach have regularly held, even during these difficult times, meetings with oil and gas companies to discuss and identify potential investment opportunities.
Algeria has huge potential in both conventional and unconventional gas. Combined with its highly developed gas infrastructure Algeria remains an attractive prospect for investors, especially in view of recent forecasts that see [global] gas consumption increasing 50% by 2050.
That is why a new hydrocarbons law, Law 19-13, was adopted at the end of 2019.
Further reading: Algeria's New Hydrocarbons Law: One Step Forward
Q: You still need to finalize the implementation texts for the new hydrocarbons before you can make new awards. When will these be ready?
A: Work on the implementation texts is well advanced. 75% have already been finalized and sent to the government where they are being examined and we are working to quickly finalize the remaining 25%. The implementation texts will specify and clarify the attractive measures provided for by the law in terms of taxation and contractual terms.
Q: Will you be holding a licensing round under the new oil law?
A: Technically speaking, we are ready to hold a bid round. We could organize one in a very short amount of time as the conditions are more or less in place.
Most of our prospective hydrocarbon regions, which cover more than 1.7mn km², remain underexplored. This presents a wide range of opportunities both on the exploration and development fronts.
We have identified blocks where we already have confirmed prospects and undeveloped discoveries. And the new legal framework covering hydrocarbon activities offers ample incentives to investors compared to the previous one.
But the decision to actually launch a bid round is dependent on at least three major factors: the strategies of international oil companies, the condition of the oil market and the trajectory of the Covid-19 pandemic.
Q: What is being done to improve business climate and tackle bureaucracy in Algeria's oil and gas sector?
A: We are fully aware that it is not enough to just modify oil regulations to make the country more attractive. And that is why we have undertaken another equally important project involving all the parties concerned at the Ministry of Energy, Sonatrach, and the national agencies Alnaft and ARH [Hydrocarbon Regulation Agency], to improve procedures and the quality of our services and activities.
The new law provides several incentives, particularly in terms of tax relief and certain procedures, precisely with the aim of speeding up the revival of activity and investment in the Algerian hydrocarbon sector. The new law includes: a new contractual framework with three types of hydrocarbon contracts for different types of projects; a production sharing contract (PSC); a participation contract; and a risk service contract.
It also simplifies the tax system and more flexibility for firms in conducting oil operations.
We have also adopted a new communication and information exchange policy whereby we seek to provide, on a continual basis, feedback meetings and information days for oil firms. This is so that we can better identify expectations, remove constraints and assure investors of our willingness to assist them at every stage of exploration and development projects.
Q: What has Sonatrach been doing to maximize revenues over the past few months, especially given lower oil production and much lower demand for gas?
A: The market has seen a drop in demand and a sharp drop in prices. Sonatrach has been able to place its output by supplementing contract sales with spot sales. Our LNG plants, fleet of tankers, storage facilities in the north and south of the country as well as the three gas pipelines that link us to Europe have provided us with considerable flexibility to reduce the impact of price fluctuations.
Further reading: Algeria Gas Exports Plumb New Multi-Decade Low
Q: Gas exports are down this year considerably. Have you been deliberately cutting output at fields so as to avoid selling or competing at such low prices?
A: Our exports by pipeline have decreased compared to 2019 but LNG sales have to an extent offset this. Under normal market conditions, [global] LNG prices should reflect the costs of production and all expenses related to marketing, transport and liquefaction. A cyclical price drop due to special circumstances, ie Covid-19, does not reflect the reality of the market.
Q: What upstream capacity additions do you plan in the near term?
A: Sonatrach has a good portfolio of projects, some of which should start up in 2021. We also have projects we are working on with international partners that will take a little longer.
We plan to commission four new projects from the end of this year to 2021. Three of these are gas fields which will also produce some liquids: Tinhert, Gassi Touil Periphery and the gas booster project in Hassi R'Mel. And we also aim to start-up the Hassi Bir Rekaiz oil field.
We plan to boost output by around 8 million tons of oil equivalent [the equivalent of 8bcm of gas or 170,000 b/d of crude] through drilling and projects in 2021 to offset reservoir decline and boost production.
Further reading: Algeria's Gas Projects: Playing Catch-Up
Q: You recently concluded a gas price re-negotiation with key Spain importer Naturgy. Have you renegotiated with any other Algerian gas customers this year?
A: Sonatrach regularly discusses market developments with all of its customers on a win-win basis. As you know, Algerian natural gas and LNG continues to be marketed mainly on a contractual basis and all medium and long-term contracts provide for periodic revisions of clauses, particularly relating to prices. Therefore, Sonatrach remains in a continuous negotiation and dialogue with its customers.
Further reading: Sonatrach & Spain's Naturgy Settle Gas Price Battle
Q: What are you doing to reduce gas flaring and prevent methane leaks?
A: Several projects have been completed or are in the process of being carried out at the Hassi Messaoud oil field to secure the installations and reduce associated gas flaring at both the field itself as well as nearby satellite deposits. This is being done with a focus mainly on gas compression and revamping projects, installations and expansion of treatment units.
Other projects to capture flared gas are planned at other fields such as Tiguentourine, In Amenas and Ohanet.
A program to improve the efficiency of the two LNG complexes at Arzew has also been launched, making it possible to secure the complexes and reduce gas flaring.

Algeria's Key Oil And Gas Infrastructure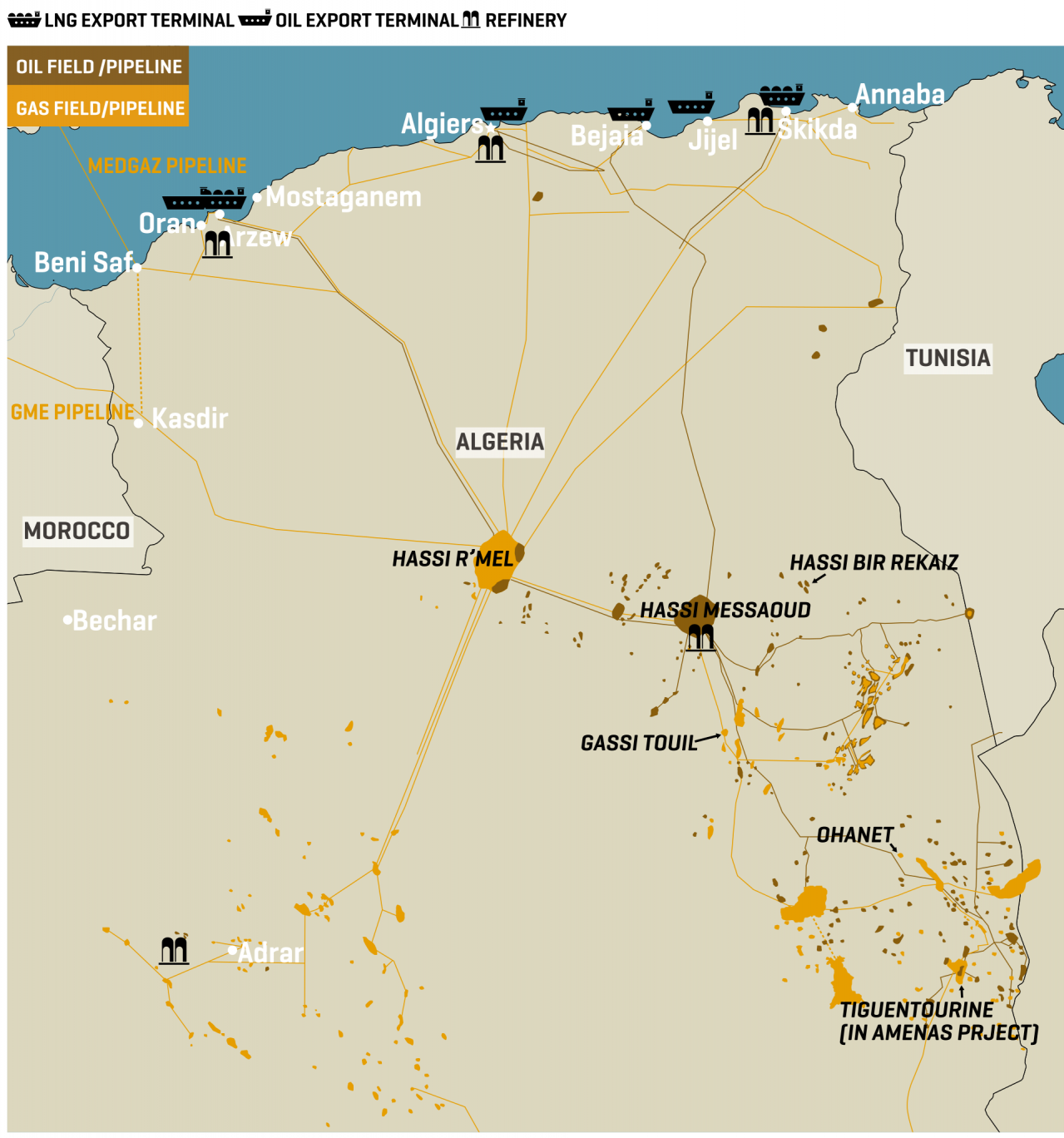 Q: Could you tell us about Algeria's refining plans?
A: Refining is a very important sector for Sonatrach, which has a portfolio of six refineries including five refineries for the treatment of crude oil and a sixth refinery for the treatment of condensate.
The total capacity of these refineries is 30mn t/y [around 600,000 b/d], with output destined primarily for the national market. To meet national fuel demand, Sonatrach has launched a project to build a new refinery in Hassi Messaoud with an annual treatment capacity of 5mn t/y. The project is in progress.
Internationally, Sonatrach owns a refinery at Augusta in Italy with a processing capacity of 10mn t/y.
Further reading: Algeria Finally Advances Major Refinery Project
Q: What are your plans for the petrochemicals industry? For example, there were plans to build a $1.4bn petrochemicals plant with Total.
A: Sonatrach, through its petrochemical development program, has sanctioned a number of projects with the aim of adding further value to the country's raw materials through finished petrochemical products. The aim is to create a local industrial base that will help reduce imports of these petrochemicals, and even potentially lead to exports.
So far, the plan includes a joint venture project [with Total] at the industrial zone of Arzew to build a complex for the dehydrogenation of propane and the production of 550,000 t/y of polypropylene (PDH-PP). This project is currently at an advanced engineering studies phase.
We also plan a new methyl tertiary butyl ether (MTBE) production unit with a capacity of 200,000 t/y. This is to be developed in house at the Arzew industrial zone. Engineering studies have already been completed and an EPC tender has been launched.
Another project we have ongoing is for a 100,000 t/y linear alkyl benzene (LAB) complex at the Skikda industrial zone for which we are currently in the engineering studies phase.
Beyond Algeria, Sonatrach is also working on a petrochemicals complex for the production of polypropylene in Turkey with a local partner RÖnesons. Engineering studies for this project are currently close to being completed.
Our petrochemicals program is not fixed, however. We are currently in the process of finalizing a master plan which is looking into the domestic and international outlook for petrochemicals.
Further reading: Total Algeria Petchems Plant Licenses Propylene Technology
Interview by Aydın Çalık. See MEES, 4 December for related analysis.