Total and its partners (Total 40%op, Eni 40%, Russia's Novatek 20%) are currently reviewing seismic data and are on track to spud Lebanon's first offshore exploration well in Block 4 in November or December, MEES learns. The consortium, awarded exploration Blocks 4 and 9 in late 2017 as part of Lebanon's first bid-round (MEES, 15 December 2017), will then head directly to southern Block 9 to drill a second well in the first half of 2020 (see map).
A well-informed source says both Total and Lebanese authorities regard Block 4 as a significantly less prospective block than 9, but Total plans to use exploration at Block 4 to test the northward extension of the Oligocene and Miocene sandstone formation (or 'Tamar sands'), home of major nearby discoveries off Israel (21tcf Leviathan and 10tcf Tamar) and Cyprus (4.2tcf Aphrodite). This partially explains why Total plans to drill the less promising but less politically contentious asset first, and suggests the outcome from Block 4 will inform the strategy taken at Block 9.
Block 9 is said to also show possible reserves in its carbonate limestone formations, similar in geology to Egypt's 21.5tcf Zohr field and Cyprus's 6-8tcf Calypso prospect. The 'Zohr concept' has triggered a total re-think of gas exploration in the East Med – evidenced most recently by Eni's return to Nour in Egypt after previously abandoning the lease in 2015 (MEES, 17 August 2018). Total will no doubt look to make use of its Italian partner's expertise as it identifies targets in Block 9.
Eni and Total collaborate next-door in Cyprus and a five-well campaign scheduled to begin offshore the island will almost definitely coincide with drilling offshore Lebanon (MEES, 1 March).
The consortium's Lebanon drilling commitment calls for two wells to be drilled on Block 9 – one within three years (from February 2018 when the contract was signed) followed by a two-year period where the second well was to be drilled. But the source says that depending on the results of the first well in Block 9, Total may opt to drill its second exploration well there directly following appraisal, specifically targeting the Zohr-like play.
Subsequent gas development will depend entirely on whether the consortium makes a commercial find, but it is worth noting that Lebanon, compared to its neighbors, has a couple of advantages that could lower the threshold for commerciality.
For one, any prospect in either Blocks 4 or 9 will lie less than 100km from shore in significantly shallower depths than those in the deeper Deep Levant Basin. Most of both blocks' acreage is shallower than 1,500ms (less than Tamar, Leviathan and Aphrodite) with a relatively flat seabed. This would mitigate costs on the development side.
Lebanon also has a larger domestic market and easier potential export options. Peak electricity demand stands at around 3.5GW versus 1GW in Cyprus, and this figure is expected to hit 5.2GW by 2030. The country is also planning a multi-billion dollar investment in gas-fired power plants over the next five years. Lebanon's Petroleum Authority (LPA) says even a 1tcf field would be commercial, though Total may need some convincing on that front.
In the case of a larger find, exports to Syria would remain an option via the 100km Tripoli-Homs gas pipeline. Despite producing 600mn cfd, Syria still lacks fuel supply to meet demand and faces chronic power outages. Turkey has also been suggested as a possible buyer. Such thinking for now remains pie-in-the-sky, but Lebanon's energy-short domestic market offers a potential route to development that sidesteps regional geopolitics.

Lebanon Offshore Blocks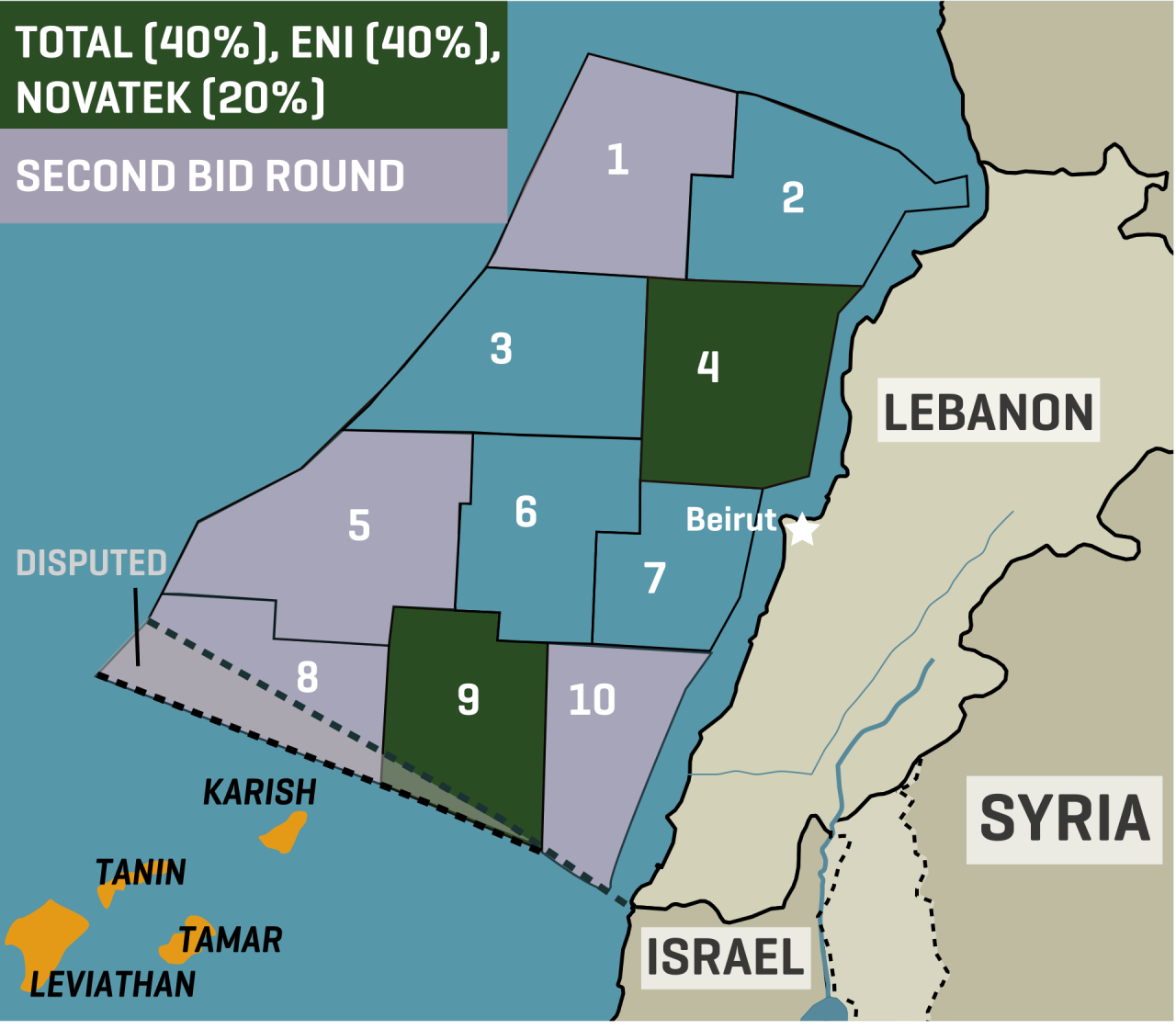 MORE TO COME?
As Lebanon's inaugural offshore drilling fast approaches, the energy ministry is looking to expand exploration activity with a second bid round lined up this year (MEES, 10 August 2018). The eight-month post-election reshuffle delayed the timeline slightly (MEES, 1 February), but with pre-qualifying expected to begin in a couple of weeks and bidding to close some time in Q4, awarding contracts by the end of the year remains a possibility. Blocks 1, 5, 8 and 10 are up for bidding.
The 13 pre-qualified operators from the first bid round will remain holdovers (MEES, 12 May 2017), and the LPA has also held discussions with notable absentees from the last pre-qualification list including BP, Lukoil, Rosneft and "several Chinese firms." The Lebanese have even welcomed American firm Noble – operator of Cyprus's Aphrodite but also key shareholder in Israel's Tamar and Leviathan projects – to bid, telling the firm to "look into sanctions law and set up a subsidiary if needed."
American firms ExxonMobil and Chevron originally pre-qualified in 2013 but have recently told officials in Beirut that a political understanding involving Washington will be needed to bid. Regional tensions are significantly lower now than they were in 2013 – mainly due to the winddown of the Syrian conflict – but the US has recently admonished Hezbollah's increased presence in the new Lebanese government.
Indian firm ONGC is also expected to show interest. The state firm took on Israeli acreage in Israel's recent bid round (MEES, 24 November 2017). Local financial interests were allegedly behind the push to add ONGC to the pre-qualified operators-list in 2017, before other factions insisted that Total be awarded the exploration rights.
Of the new acreage, Blocks 8 and 10 are the most intriguing – both because of the similar geology to Israel's proven fields but also because of the geopolitical complexity at stake. Block 8 in particular has much of its acreage lying in waters disputed by Israel, and whilst the UN quietly negotiates the conflict with American help (MEES, 16 February 2018), risk averse IOCs may once again pass on arguably the two most prospective block on offer.