It's been five years since underlying tensions over the Saudi-Kuwait Partitioned Neutral Zone (PNZ) burst to the surface with the shut-in of the offshore Khafji field in October 2014 (MEES, 24 October 2014). And in just six months' time, it will be half a decade since the 500,000 b/d capacity PNZ last produced a drop of oil (MEES, 15 May 2015).
There is growing optimism in Kuwait that this embarrassing intra-GCC anniversary can be avoided, but previous such hopes have ultimately come to naught (MEES, 5 October 2018). Saudi Arabia and Kuwait share the area's subsurface resources (see map) and so any output from the PNZ is divided 50:50.
Kuwait's Speaker of Parliament Marzouq al-Ghanim praised the state of talks with Saudi Arabia on 20 September as evidence of the "brotherly relationship" between the neighboring states. Meanwhile, Deputy Foreign Minister Khalid al-Jarallah added that discussions on the matter were "very positive." But while Kuwaiti media is playing up the prospects for an imminent resumption, there have been many false dawns over the past five years.
Local reports indicate that under the current talks, the parties plan to first restart the offshore Khafji field. This is operated by the Khafji Joint Operations (KOJ: a 50:50 JV between Kuwait's state-owned KGOC and Saudi's AGOC). Prior to the shut-in Khafji output was around 220,000 b/d.
Meanwhile, the onshore Wafra field was producing around 175,000 b/d prior to its May 2015 closure. Resumption of Wafra production would be the second stage of a PNZ restart. Wafra and the rest of the onshore is operated by Wafra Joint Operations (WJO) a 50:50 partnership between KGOC and Saudi Arabian Chevron (SAC).
CHEVRON TUSSLE
The Khafji field is a logical place for any restart of production as it is far less contentious than the onshore portion, which lies at the heart of the PNZ dispute. The two allies' disagreements over management of the Neutral Zone stem from Saudi Arabia's 2008 extension of US major Chevron's license to operate the kingdom's onshore portion (MEES, 21 July 2008).
Kuwait complained that the decision had been taken unilaterally, and began to restrict visas for Chevron staff. Essentially, Chevron was caught up in Kuwait's opposition to IOCs operating in its territory. The closest to an upstream presence that any firms have in Kuwait are the enhanced technical service agreements (ETSA) which have been awarded to Shell and BP, and even those were highly contentious.
Any agreement under which Chevron once again returns to Kuwaiti territory would risk again inflaming Kuwait's unstable political scene. While Kuwait's government is keen for a restart of the PNZ, and would likely overlook Chevron's presence, some MPs would be less sanguine.

Kuwait/Saudi Neutral Zone: Oil Infrastructure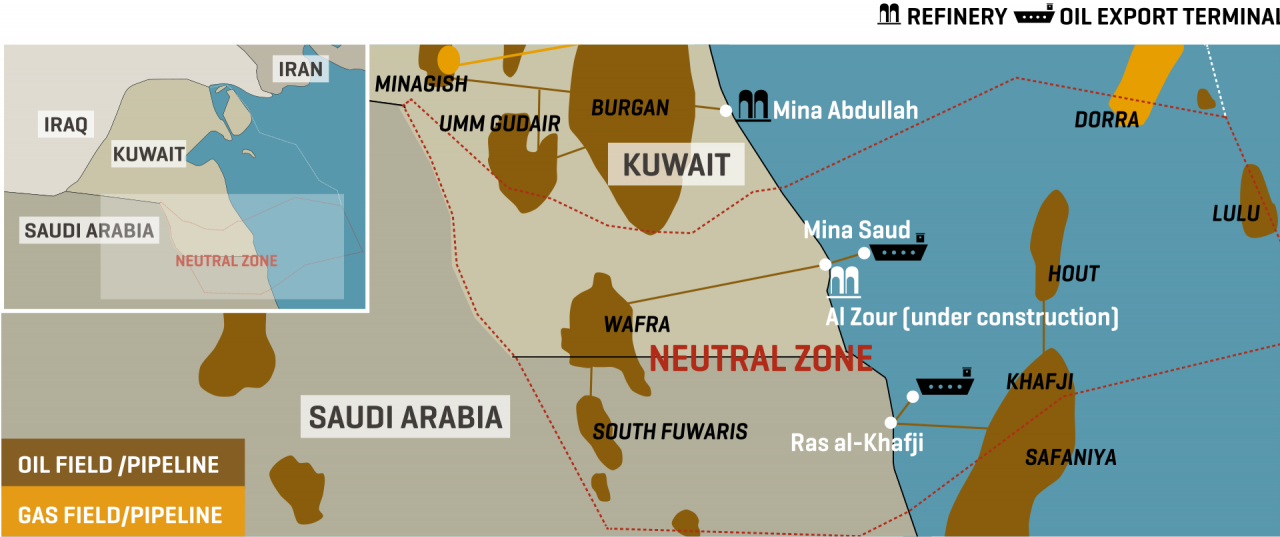 Neutral Zone Crude Oil Exports* ('000 B/D): Offshore Volumes Accounted For More Than 50% Prior To 2014 Shut-In But Were Already In Decline
SOURCE: SAUDI MINISTRY OF ENERGY, GENERAL AUTHORITY FOR STATISTICS, MEES.
LOOKING HEAVY
The Khafji field is an extension of Saudi Arabia's mammoth 1.3mn b/d offshore Safaniyah field. Its 220,000 b/d production capacity is exported from the Ras al-Khafji terminal as Arab Heavy (28°API).
As for output from the Wafra field, that is considerably heavier at 18°API and was previously exported from the Mina Saud terminal. Global markets are widely seen as oversupplied, and Kuwait and Saudi Arabia would offset any additional volumes by cutting back output elsewhere.
That raises the question of how much production would be brought back online by a PNZ restart. While a production capacity of 500,000 b/d is typically assigned to the PNZ, in reality, it hadn't produced at those levels since 2012. Given how long the fields have been shut-in, a relatively slow ramp-up would be likely. Volumes are unlikely to reach anything close to 500,000 b/d any time soon.
Volumes from the PNZ are heavier than the typical output from Kuwait and Saudi Arabia. This year has seen debates over a potential imbalance in the crude slate, with the bulk of Opec cuts (voluntary or otherwise) falling on relatively heavy oil, while the US is pumping record volumes of light oil (MEES, 12 April). Heavier PNZ volumes may therefore be welcomed by the market, should they materialize.