Oman finished 2017 with average annual output of 969,000 b/d, just under its 970,000 b/d Opec/non-Opec production agreement and down from 1mn b/d the year before. Exports dropped from 880,000 b/d in 2016 to 806,000 b/d, though higher oil prices mean hydrocarbon revenues rose by $2.3bn to $17.5bn for 2017. Revenues may well be higher still in 2018 given that current oil prices are more than $15/B above the average 2017 Oman crude price of $51.3/B.
But prospects for increasing production capacity appear less forthcoming.
Asked on the sidelines of the Atlantic Council Global Energy Forum in Abu Dhabi on 12 January whether Oman is looking to boost capacity, Oil Minister Muhammad al-Rumhy said "Not really. Production capacity in Oman is always a struggle. Our fields are extremely difficult. I don't think we could boost our production to 1.5mn b/d or 1.2mn or 1.1mn. I don't think that for Oman the opportunities for production are endless. Far from it."
Nonetheless, Oman is looking to push onward and outward in both upstream and downstream spheres (see box, MEES, 19 January) in a bid to maximize gains from its "difficult" fields.
Khazzan's September 2017 start-up came in below budget and ahead of schedule, with its 1bn cfd and 25,000 b/d condensate output set to hit full production in Q1 this year (MEES, 29 September 2017). The BP-operated (60% stake) tight gas field will boost Omani gas output by 20% to 48bcm/year.
BP and partner Oman Oil Company for Exploration and Production (OOCEP), which holds the remaining 40%, are now making moves toward phase-2. London-based Petrofac was last month awarded an $800mn lump-sum contract from BP to develop the phase-2 central processing facility (CPF). And BP last week awarded Texas-based engineering firm Jacobs a contract for engineering, procurement and construction management services. Phase-2 development is planned to take output to 1.5bn cfd by 2020.

Oman Key Oil And Gas Infrastructure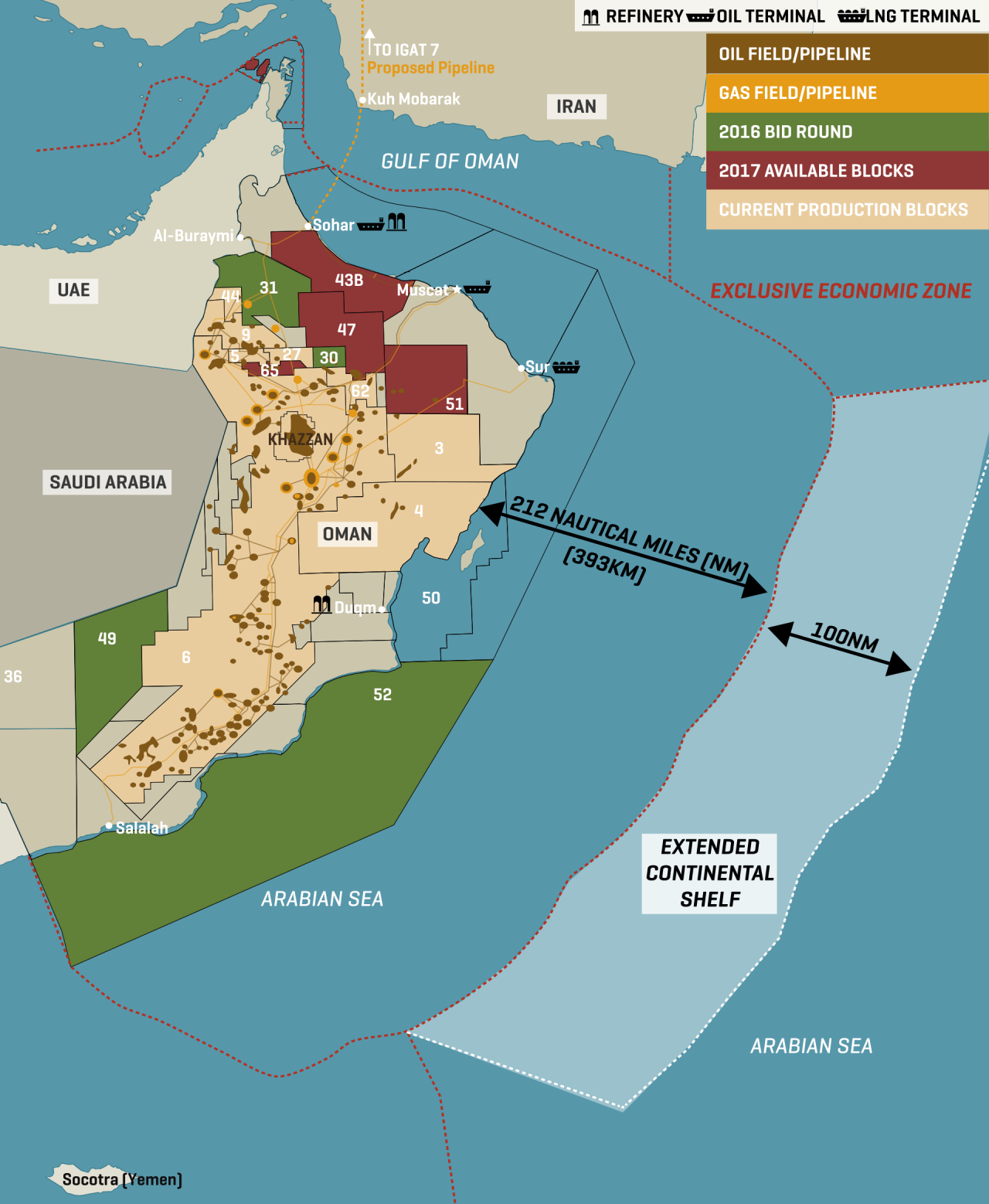 EXPANDING UPSTREAM
Blocks awarded in 2016 and 2017 bid rounds should help Oman maintain output in the medium term. Four blocks were awarded in the 2016 bid round, including the offshore Block 52—in which Eni bagged an 85% operating stake (MEES, 24 November 2017). Interestingly, Eni agreed to sell 30% of its stake to Qatar Petroleum (QP) the same day as the contract was signed. The bid round also saw deals signed for Blocks 31, 49 and 30. Not the most enticing blocks, and even should discoveries be made new production will not be until next decade.
Negotiations for the award of blocks from the 2017 bid round are planned to begin in March with agreements for concession areas targeted for end-2018. "We had a lot of interest, with many names. Eni is interested, I had a visitor from ExxonMobil the other day," Mr Rumhy says. Blocks 51 and 65 are the most promising, the minister reckons, given that they offer both oil and gas plays, and are located adjacent to PDO's dominant Block 6 which accounts for 68% of the country's oil output (MEES, 15 September 2017).
To boost longer-term offshore prospects, Oman's Foreign Ministry applied to the UN in October 2017 to extend its continental shelf limit from 200 nautical miles to 300 (see map). Under the United Nations Convention on the Law of the Sea (UNCLOS), a state's continental shelf is defined as running 200nm beyond its territorial sea, which in turn covers the first 12nm from the coastline. States can petition for an extra 150nm, bringing the total up to 350nm. Mr Rumhy said, however, that Oman was looking to expand just 100nm.
If granted, Oman would gain substantial exploration real estate. Oman only has three current exploration blocks offshore the Arabian Sea. And only one, Block 52, is in the hands of a company (Eni) with offshore drilling experience. Block 50 is held by local firm Masirah Oil, whilst Block 59 is vacant.
Although the majority of its existing continental shelf is unexplored, where it has been drilled, success has been limited. No major oil or gas discoveries have taken place despite modest exploration efforts dating back decades.
Moreover, depths between Oman's current offshore blocks and the Owen Ridge (which lies near the 350nm continental shelf) lie between 2,000 and 3,000 meters. Any new blocks would be deepwater and far offshore.
MIND THE DEFICIT
The Oil Ministry's efforts have perhaps been spurred by the sultanate's worrying finances. Oman's 2018 budget projects a $7.8bn deficit (13% of GDP), the tenth straight year of budget deficits (MEES, 5 January). Debt now stands at 50.8% of GDP a troublesome trend that even higher oil prices won't reverse. In 2017, Standard and Poor's downgraded Oman's economy twice, plunging its credit rating to BB, which is junk status (MEES, 24 November 2017).