When ExxonMobil announced its 5-8tcf Glaucus discovery offshore Cyprus in February last year (MEES, 1 March 2019) it came just twelve months after Eni announced its own 6-8tcf Calypso discovery (MEES, 16 February 2018), raising expectations that the island would finally be able to call itself a gas producer. Initial hopes following the 2011 discovery of Cyprus' 4.1tcf Aphrodite had subsided in the six years between, with the mid-2014 oil price collapse also playing its part in dampening aspirations.
At the beginning of 2020 Cyprus had high hopes that this year would see a total of four wells drilled with a further four to follow in 2021, plans that had been put in place in early 2019 (MEES, 24 May 2019).
There has been zero progress to date on drilling any of these wells. In part this is due to logistical complications associated with the Covid-19 pandemic. But slashed capex budgets from key players Exxon, Chevron (was Noble), Total and Eni are the more fundamental reason, with increasing regional geopolitical tension also playing a part (MEES, 9 October).
Cyprus Energy Minister Natasa Pilides remains upbeat that key appraisal wells at Calypso and Glaucus will now take place next year. "Our licensees have rescheduled their drilling program for pretty much the second half of 2021," she told the Economist 16th Cyprus Summit last month. We'll see.
Top of the list for prospective 2021 drilling is a much-delayed appraisal well at Calypso on Block 6. But, speaking at the same summit, the best Romaric Roignan, regional upstream chief at Eni's 50% partner Total would commit to was a "target" of "before the end of 2021."
Neither Total nor Eni have mentioned Cyprus in recent extensive strategy outlook presentations. Officially, according to the 2019 plans that Nicosia says remain intact, Calypso drilling would be followed up by a wildcat exploration well targeting the same block's Kronos prospect (see map).

Cyprus: Planned* Offshore Drilling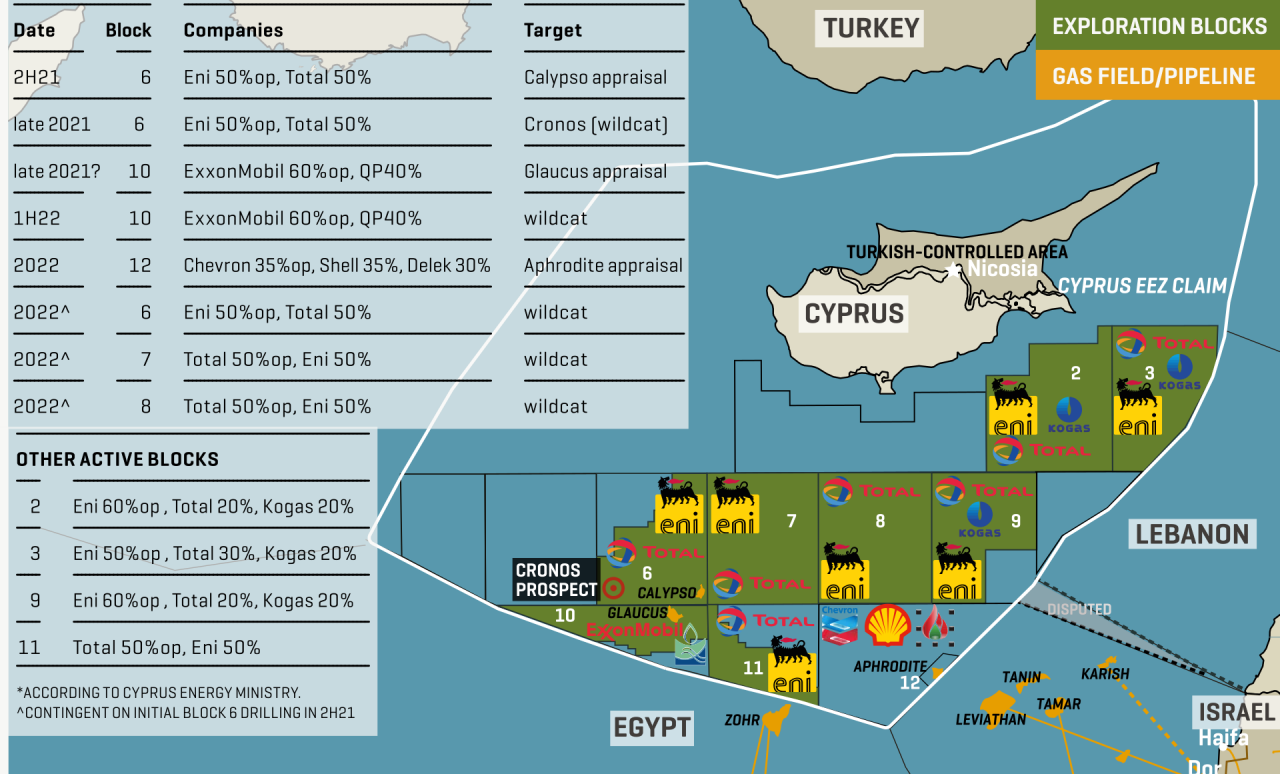 Eni and Total, partners on seven of Cyprus' eight active blocks, have indicated to the Cyprus authorities that they may then drill up to three additional wells (MEES, 17 April).
The other possible late-2021 well would see ExxonMobil (60%op) and partner Qatar Petroleum (40%) drill an appraisal well on their February 2019 Glaucus discovery 40km southwest of Calypso on Block 10. A follow-up exploration well on the same block is also envisaged.
Eighteen months between a wildcat exploration well on virgin acreage and an appraisal well is not an unreasonable period of time to assess data, as was the case with Exxon and Glaucus. Meanwhile, Eni's delay in drilling an appraisal well at Calypso was mainly due to the delay in being awarded the adjacent Block 7, within which part of the field lies (MEES, 2 August 2019).
What of Aphrodite? The field's partners had planned to drill a second appraisal well (third overall) at the field before the end of 2021.
Ms Pilides says that "first gas in 2025 still remains our target date despite the reshuffling." The partners renegotiated the production sharing contract (PSC) with the Cypriot government, signing an exploitation license in Nicosia in November last year which envisioned taking FID in 2022 with first gas in 2025 (MEES, 8 November 2019).
Long-stalled Aphrodite development seemingly got a boost with Chevron's $4.1bn takeover of operator Noble Energy in October (MEES, 9 October). CEO Mike Wirth has made positive soundings regarding the East Mediterranean, although his main focus has been Israel's 22tcf Leviathan field and in particular Phase II development which would see output tied back to Egypt's 7.2mn t/y ELNG export terminal at Idku (MEES, 11 September).
With Aphrodite's development plan also envisaging tie back to Idku, Chevron's focus on the far larger Leviathan risks seeing Aphrodite development delayed indefinitely.
Likewise, the most likely development option for the Calypso and Glaucus discoveries would also be tie back to either Idku or to the Eni-operated Segas liquefaction plant at Damietta (MEES, 4 December).
As with Chevron and Aphrodite partner Shell, the 'good news' for Cyprus is that in Total, Eni and Exxon, it has a suite of heavyweight international players.
The same can be said of Exxon's partner QP, whose presence may also confer some degree of protection against bullying by Cyprus' key geopolitical rival (but Qatar's ally), Turkey.
TURKEY: REGIONAL BULLY
Eni in 2018 called off Cyprus drilling plans in the face of Turkish hostility (MEES, 16 February 2018). And Turkey has massively ramped up its offshore Cyprus activity since.
Since the last 'official' Republic of Cyprus well was drilled by Exxon in early 2019, Turkish state firm TPAO has drilled a total of six wells in waters internationally recognized as Cypriot. Three of these have been south of the island – one well a piece in the Eni/Total Blocks 6, 7 and 8 (MEES, 9 October).
Though France, which sent an aircraft carrier to the East Med earlier this year, and the US have been far more robust than Italy in the face of Turkish threats, the increased regional geopolitical tension has no doubt played a part in decisions to delay drilling.