Q: Beginning with the recently-passed plan to overhaul Lebanon's power sector (MEES, 15 March), what are the next steps toward implementation and adding available capacity for consumers?
A: We are now working on Phase-1 which involves building two new power plants – one at Selaata and a second plant at Zahrani (see map). We are talking about approximately 550MW at each plant to be offered in two packages. Because we need the short-term temporary solutions as well, we've combined both the long-term and short-term in each package.
For instance, Selaata is part of the permanent capacity plan, but we've combined it with temporary capacity solutions, and the provider will have one levelized tariff. The ministry is now finalizing the prequalification process. We should be launching it by the end of the month, and by end of July we will launch the tender for Phase-1.
For Phase-2, the plan is to replace our existing old power plants with new ones. As soon as we launch the tenders for Phase-1, we will begin working on Phase-2 launch because the decommissioning and removal of existing plants will take time.
Q: Speaking of the 1.45GW 'temporary generation' portion the electricity plan that the ministry is pursuing by next year, what exactly does this entail?
A: The permanent portion of Phase-1 calls for building combined cycle gas turbines (CCGT) but the temporary generation solution can be any technology the bidders decide to pursue. There are different technical options the bidders can use for the temporary options, but permanent power will be based on [open cycle] gas-fired plants followed by a phased upgrade to CCGT.
Q: What's the status of Deir Ammar-2, which was supposed to be built by Cyprus' J&P before a long litigation? The firm now looks close to bankruptcy. Your electricity plan supposes the plant will be finished by 2021.
A: We are negotiating the power purchasing agreement (PPA). It's taking time. Everyone knows a PPA cannot be bankable in a short period of time especially given that we are converting the contract from EPC to PPA as per the Council of Ministers' decision.
Q: You're still negotiating with J&P?
A: Yes as per the Council of Ministers' decision, they created a Lebanese company with some investors. The PPA should be finalized very soon and the open cycle portion will be completed by 2021.
Q: How is work on renewables coming?
A: The target we set is 12% generation from renewables by 2020 and we are reaching it. We are working now with [Abu Dhabi-based international renewables agency] Irena on a strategy for 30% renewables by 2030. We will launch it by September.
Q: Does Lebanon have plans to increase electricity imports from Syria? [Lebanon has sporadically imported electricity in recent months, and can import up to 69MW].
A: Not at the moment, no.
Q: Under the former energy minister, the ministry was planning to bring another power ship in addition to the two current at Jiyeh and Zouk [195MW each; see MEES, 6 July 2018]. Where do the power ships fit into the ministry's current plans?
A: Their contracts will finish in September 2021 and there is no plan to renew these contracts because we will already have our temporary generation solutions in place.
Q: GE and Siemens have been linked to comprehensive 'roadmap' plans for Lebanon, similar to the situation in Iraq. What is the status of negotiations? Does the ministry have a timeframe for when it wants to sign a big comprehensive deal? Is this still the plan?
A: No, no. We are not going to sign any big contracts with anyone. We are going through a competitive bidding process and as I said we will launch a prequalification and tender for each project. GE, Siemens, Mitsubishi and other manufacturers can submit bids along with the developers who will sign the PPAs for 20-25 years. The developers will make an agreement with one of the manufacturers, but we are not pursuing direct negotiations with a supplier like Iraq or Egypt.

Lebanon's Power Infrastructure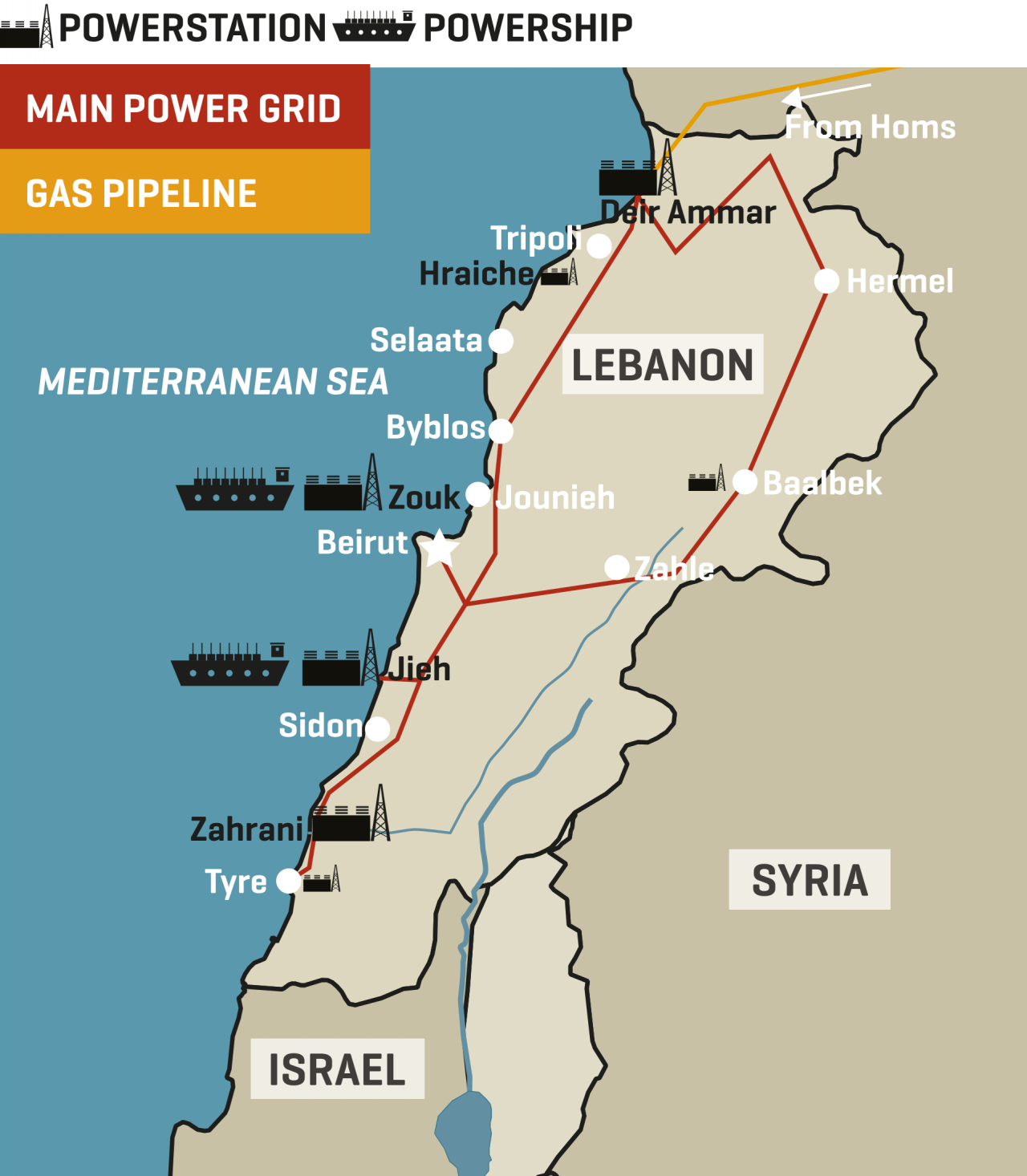 Q: Cutting electricity subsidies has been put forward as a key component of the government's plan to reduce the deficit (MEES, 8 February). When will we see these cuts?
A: We've already begun cutting subsidies this year. Electricité du Liban (EdL) asked for LL3,279 bn ($2.19bn)for this year and we reduced that to LL2,500 bn ($1.66bn) based on our efforts to minimize technical and non-technical losses as well as improve bill collection. So based on this we've reduced the budget, and we have also proposed a decrease in subsidies in coming years to eventually arrive at zero.
Q: By when?
A: It depends on prices and how successful we are in adding generation capacity. If we reach all temporary generation by 2020, we can increase the tariff to the maximum because we will have eliminated private generators and people will not be paying these additional fees – instead one bill and there won't be a deficit.
Q: In terms of the plan to tender for three FSRUs to enable Lebanon to import gas (MEES, 5 April), the award has continuously been pushed back. When do you plan to announce the winners?
A: It wasn't really delayed, but we had to check all the technical aspects of the proposals. Recently we informed the bidders who prequalified based on the technical criteria. Now we are discussing the financial evaluation to make sure all criteria were met. We will open the price envelopes in the next few days – likely early next week.
Q: Can you elaborate on the exact terms of the FSRU deal?
A: It's a turnkey project that includes both the gas supply agreement as well as the infrastructure. As for prices, I don't have any predictions. Let's see what we have in terms of offers.
Q: What if Lebanon begins its own gas production within the duration of the gas sales agreement?
A: It will be mentioned in the contract that once we have our own gas production, the FSRU/LNG contracts will be terminated.
Q: And is 2021 a realistic timeframe for beginning gas imports?
A: Yes because by the time we open the financial offers and proceed to negotiate the specific terms of the contract, we will have most likely reached the end of this year. And then they need between 18-24 months, so we are looking at mid-to-end 2021.
Q: Egyptian Petroleum Minister Tarek el-Molla has mentioned previously the possibility of exporting gas to Lebanon via the Arab Gas Pipeline [which crosses Jordan and Syria – see map, MEES, 30 November 2018]. Is there any progress on that?
A: It's very difficult to do given the complicated sanctions [on Syria]. We signed a Memorandum of Understanding with the Egyptian government and we are closely coordinating its progress. Minister Molla will be in Lebanon this week and I am meeting with him on Saturday to discuss all the possibilities.
Q: Moving to offshore exploration. Reports attributed to Total say Block 9 drilling is now expected in December 2020. What's behind the delay?
A: We have approved the following dates: in December 2019, we will drill the first well in Block 4, and in May 2020 we will drill the first well in Block 9.
Q: In terms of the second bid round (MEES, 5 April), have you had more interest from IOCs?
A: Of course, but it's all verbal for the moment. I've had interesting discussions with big companies from around the globe. The bid round will continue until 31 January 2020 and we are very hopeful of receiving a huge number of bids.
Q: You met earlier today with American diplomat David Satterfield about resolving the maritime issue with Israel. Essentially, what would Lebanon be willing to accept as a compromise to settle the maritime dispute?
A: It's a decision that will be taken by our President [Michel Aoun], our Speaker of the Parliament [Nabih Berri], and Prime Minister Saad al-Hariri. Mr. Satterfield saw them today to discuss this subject, and we should wait for their decision.
Q: Well, since you met with him, what is the US position and what is the US trying to accomplish currently?
A: For the moment, they just want to pave the way for negotiations. They are not giving us a [demarcation] line or anything – it's just the beginning of a dialogue for further discussions.
Q: I understand, but I'm just trying to get a better understanding of the positions the parties will bring to the bargaining table.
A: I'd love to answer this question, but really I can't. This is a very important political decision and I cannot take it for my government.
Q: It seems the US has used possible participation of American companies in the upcoming bid round as leverage to bring Beirut to the bargaining table. Would you agree with this characterization?
A: No, not at all. But they've clearly stated that American companies should participate – not only in Lebanon but in the entire [Eastern Mediterranean] region.
Q: On that topic, ExxonMobil is rumored to be interested in the ongoing Israeli bid round (MEES, 12 April). Would Lebanon allow a company doing business in Israel to bid in Lebanese offshore?
A: Unfortunately, no, they cannot submit. It's our law and I cannot change the law.
Q: They could do so through a subsidiary or something though…
A: This is also a decision to be made by the Government of Lebanon.
Q: Lastly, you've been the minister for a few months now. Can you just outline your priorities and vision for reforming the ministry for me?
A: Well I have so many priorities. As you know, this ministry is very challenging because it is in charge of several sectors; electricity, renewable energy, oil and gas, water, wastewater, and irrigation all constitute my Ministry's portfolio and each sector poses major challenges.
My priorities are of course reform of the electricity sector, which was the first step I took. Our first priority is to reduce the technical and non-technical losses in 2019, and I'm not afraid of the targets we've set because we are already witnessing very encouraging results. We have moved forward regarding procurement of new power plants, so in 2020 we will have signed Power Purchase Agreements and set a permanent solution to the electricity problem.
Another one of my key priorities related to reforms is the appointment of a regulatory authority, and for that matter I have sent amendments for Law 462 twice.
For the oil and gas sector, I launched the second bid round immediately after we passed our electricity plan. On the exploration side, I am determined that we begin drilling the first well before the end of this year. This is not easy, in fact it's very challenging. It's our first experience. We still have licenses to issue, studies to complete, and of course all the goods and services contracts are currently being awarded by the consortium. It's a priority to be on time and drill the first well in December, but also have new companies enter our second licensing round. We are busy in 2019!
For the water and wastewater, I launched two weeks ago the update of the national water and wastewater sector strategies of 2012. We are going to integrate both strategies this time with a 2030 vision, and we need six months to get it done and published.
Q: Is 24/7 electricity by next year still a possibility?
A: You know, the procurement documents took time because it's the first time we've combined the temporary and the long-term solutions in one package. We are doing our best.
Q: Sounds like getting everything through parliament and the cabinet is the biggest issue for you.
A: Of course, it is always difficult to have all political parties agreeing on one subject, but so far I have succeeded and I am very optimistic about the next steps and that with proper communication and hard work we can get everyone on board.
Interview conducted by Waylon Fairbanks on 12 June in Beirut.