The last 12 months have seen the Syrian Arab Army (aided by Russia, Iran and various militias) make spectacular territorial gains against the Islamic State and Sunni rebel groups—and do so without disturbing the tenuous power balance that characterizes the present conflict. Russia, Iran, the United States and Turkey all have troops on Syrian soil, and Israeli jets are no stranger to the airspace (MEES, 15 June).
President Bashar al-Assad is determined to return all of Syria to government control—and with Damascus's suburbs, northern Homs, the southern frontier and most of Deir Ez-Zor province retaken, the objective is within sight (see maps). Recent talks between the government and Kurdish representatives to integrate the mostly Kurdish Syrian Democratic Forces (SDF) into the Syrian army would further this aim. Mr Assad told Russian media in late July that "now Idlib is our goal", and movements on the front suggest the campaign could commence any day.
But unlike Mr Assad's other gains, which involved battering increasingly stretched and isolated rebel factions, regional player Turkey has a keen interest in Idlib. Under a 2017 Astana agreement between Moscow, Tehran and Ankara, Turkey was tasked with overseeing a "de-escalation zone" in Idlib and has used the opportunity to set up something of a quasi-state there—though to a much lesser extent than the Operation Euphrates Shield and Operation Olive Branch territory directly controlled by Turkey in the north of the country. Turkey has 12 'observation points' within Idlib province.
Turkish President Recep Tayyip Erdogan has vowed to "protect the Syrian people" should Syrian forces attack Idlib, and Russia—which has taken full advantage of playing dealmaker between Nato member Turkey and Damascus—appears hesitant to fully back a full-scale operation in Idlib and threaten the Astana deal. Russia is trying to broker a "cooperative solution" in which "armed groups are split from terror groups," foreign minister Sergei Lavrov says. But Mr Assad is desperate for full territorial control. The question is how far Russia will go in supporting an Assad-led bloodbath in Idlib.
If Idlib erupts into an all-out warzone, Turkey is the key loser. Estimates claim over half of Idlib's 2.5million inhabitants are 'internally displaced persons' and the region has served as what UN regional humanitarian coordinator Panos Moumtzis calls a "dumping ground" of evacuated fighters and civilians. The Syrian government has bussed thousands of the most extreme militants to Idlib as part of previous surrender deals. Al-Qaeda-linked Tahrir al-Sham (formerly al-Nusra front) is headquartered in Idlib.
Mr Moumtzis warns that a full-scale escalation would see residents "displaced more and more toward the border of Turkey", facilitating a massive refugee crisis that Turkey, which already hosts about 3.5 million Syrian refugees, is desperate to avoid.
Furthermore, Ankara's northern dependencies are its only real leverage over Mr Assad. At present, the US-backed SDF controls nearly 30% of Syrian territory; the SDF's biggest member, the People's Protection Units (YPG), is closely linked to Ankara's arch foe the PKK. Turkey will scratch and claw to avoid any settlement that includes an autonomous Kurdish zone in the northeast. Mr Erdogan promised in January that Turkey would "clean its entire border" of Kurdish fighters.
That the US is looking to exit Syria's northeast complicates matters further. Washington offered extensive military support to the SDF during its campaign against the Islamic State. But, with Islamic State largely crushed, President Trump is eying a 'victory' exit. The US "never should have been in the Middle East. It was the single greatest mistake in the history of our country," he told Reuters this week.
Washington announced days prior that it would "redirect" funds previously allocated to coalition-controlled areas in Syria for "stabilization projects" elsewhere. Mr Trump tweeted that "the United States has ended the ridiculous $230mn yearly development payment to Syria. Saudi Arabia and other rich countries in the Middle East will start making payments instead of the US. I want to develop the US, our military, and countries that help us!" Saudi Arabia and the UAE pledged $100mn and $50mn respectively at a July conference, giving Washington an excuse to cut funding which has been directed at Kurdish-controlled areas.
The US also maintains a military presence at al-Tanf near the Jordan-Iraq border.
Deprived of American might, the fledgling autonomous region in northeastern Syria would struggle to survive without a regional backer—making Kurdish officials more amenable to compromise with Damascus. Ilham Ahmad, co-president of the Syria Democratic Council (the political wing of the SDF) told BBC Arabic that Kurdish forces would join Syrian regime forces in the future in exchange for a measure of autonomy within the Syrian state. Some local media report that the SDF may even join the Idlib campaign. But Mr Assad's frantic push to restore Syria could see him upset the geopolitical balance that allowed his troops to retake swaths of territory in the first place.

Syria's Political Divisions & Energy Infrastructure Then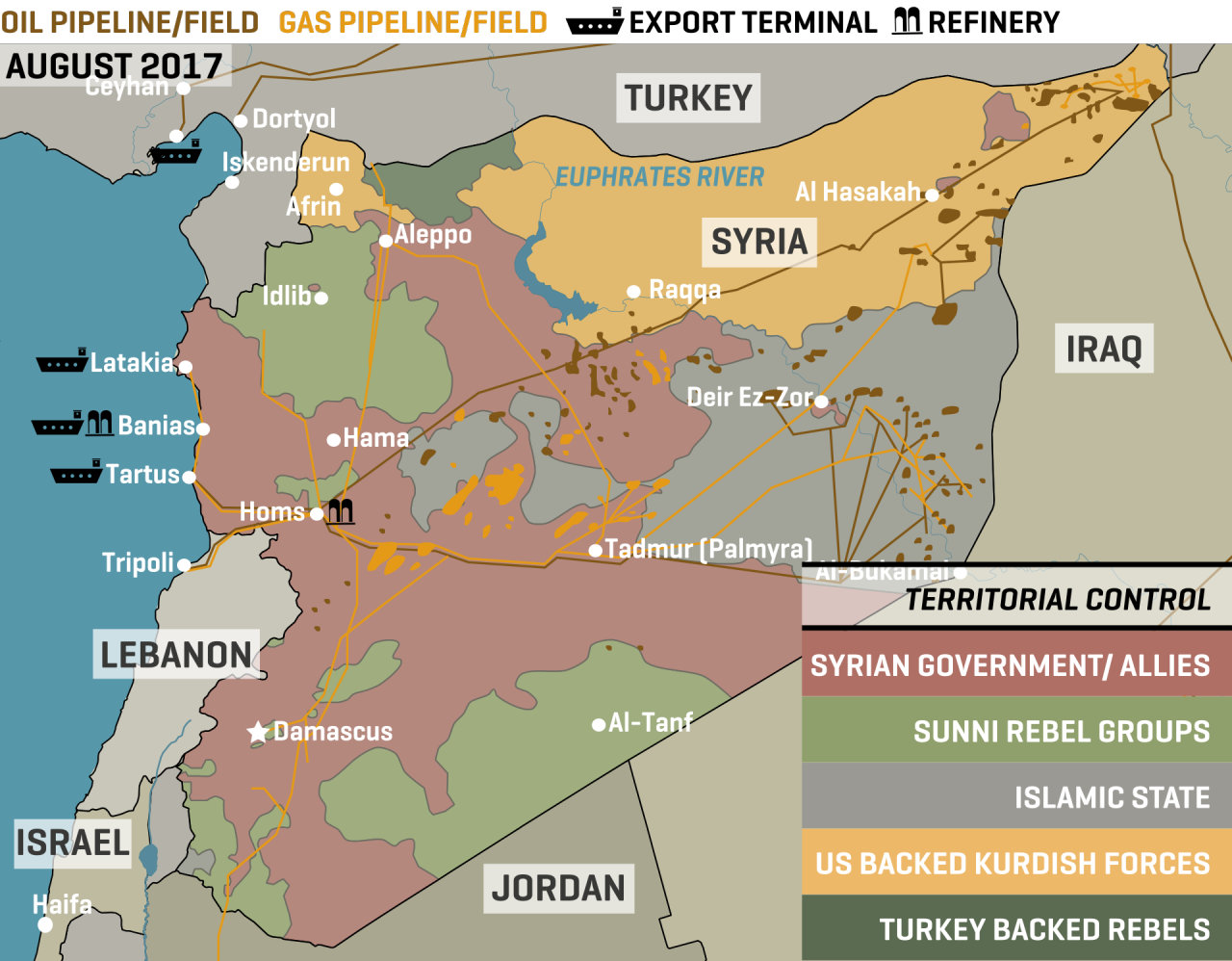 Syria's Political Divisions & Energy Infrastructure Now