Lebanon's capital city lies in ruins following the 4 August explosion at the Port of Beirut that left more than 150 dead, 300,000 displaced, and at least $3-5bn in property damage. The explosion itself was caused by 2,750 tons of highly explosive ammonium nitrate egregiously stored at the port, which is located near Beirut's bustling commercial and residential neighborhoods. But within hours the true culprit became clear: far from an innocuous industrial accident, the explosion was the result of the incompetence, corruption, and self-serving elite that has rotted Lebanese politics since the end of the 1975-1990 civil war.
The small Mediterranean country is now reeling. The Lebanese Red Cross continues to unearth corpses scorched from the explosion and bodies left for dead under collapsed buildings across the city, particularly in the nearby Gemmayzeh neighborhood. And, unlike previous travesties, of which Lebanon has too many to count, this crisis appears simply too big to be plastered over by the population's resilient, 'keep calm and carry on' mentality.
Even before this week's explosion, Lebanon was already lying in a crater. A long-brewing financial crisis saw its first-ever foreign debt default in March (MEES, 13 March) caused by years of economic mismanagement. Unemployment sits around 30%; basic goods and food prices are verging on hyperinflation; government power generation supplies just 2-6 hours of electricity a day; the Lebanese Pound (LBP) has lost around 80% of its value; and citizens are unable to access dollar-denominated savings 'stuck' in the country's banks due to dollar ill-liquidity (MEES, 20 December 2019).
Exacerbated by the Covid-19 pandemic, the World Bank recently forecast Lebanon's economy to contract by 10.9% this year (see chart 1). And with the capital city now in ruins, all of these problems are set to grow exponentially worse.

1. Lebanon GDP Growth Was Forecast At -10.9% For 2020...And That Was Before The Explosion
SOURCE: WORLD BANK.
WHAT HAPPENED?
Details explaining the blast are still shaky, and will (hopefully) emerge through further investigation. But what we already do know provides a damning and telling picture of the sheer scale of the rot at the center of Lebanese governance.
The fateful ammonia nitrate cargo arrived in 2013 onboard the Russian-owned Moldovan-registered 'Rhosus', which was to deliver the chemical from Georgia to a manufacturer in Mozambique via the Suez Canal.
According to a 6 August Reuters report, the ship's owner (who is currently being investigated in Cyprus) instructed the crew to pick up heavy machinery at Beirut and deliver it to Jordan's port of Aqaba.
The poorly-maintained vessel was then embroiled in a legal dispute over fees, and the crew was stranded onboard in Beirut for 11 months. In 2014 the cargo was offloaded for 'safety reasons' and kept in covered storage at the port (see map).
At that point, the power of Lebanese inertia – particularly at lucrative institutions like the port where vested political interests are keen to place loyal partisans in place to maximize graft – was in full swing.
Reports have emerged that customs officials asked the judiciary on a number of occasions to either confiscate or re-export the substance, but unsurprisingly no action was taken.
What ignited the ammonium nitrate is still unclear. Initial reports cited a fire in a neighboring warehouse that was storing fireworks. Witnesses also report hearing a sonic boom immediately before the initial fire, leading to unverified speculation of a possible Israeli airstrike.
Whatever the cause, a sizeable fire broke out just before 6pm and firefighters rushed to the scene to help. Around ten minutes later, the stored ammonium nitrate caught flame, killing not only the entire crew and nearby port workers, but over 150 others – the death toll continues to rise.
The shockwave was felt as far away as Jordan and Cyprus. For those nearby and afar, the shock felt like something of a seismic wave, twisting sheet metal and shattering glass as far as 5km from the blast site.

Beirut's Port Area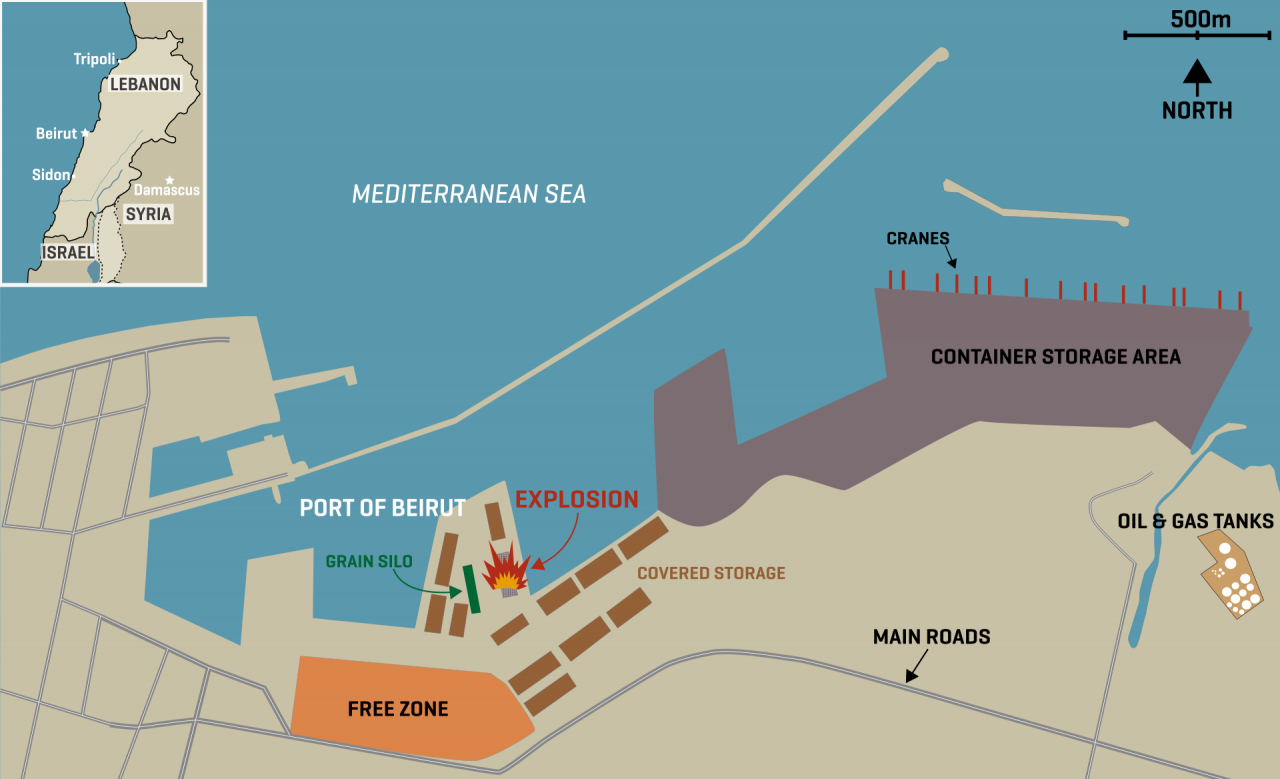 WHO'S RESPONSIBLE?
Lebanese officials, themselves complicit in the crime, immediately began to point fingers. Port authorities were placed under house arrest and their bank accounts were 'frozen' – not that their assets were withdrawable anyway.
In reality, many of the high-ranking officials at the port are vestiges of the same political system that has eroded governance elsewhere. MEES understands that former Director General Shafik Merhe was close to the mostly Shia Amal Movement, a political party (ex militia) belonging to the controversial Speaker of Parliament Nabih Berri; Customs Director Badri Daher is close to Mr Berri along with the Christian Free Patriotic Movement headed by Gebran Bassil (son-in-law of President Michel Aoun); Chairman of the Port Authority Hassan Kraytem was appointed by former President Michel Sleiman and is close to former Prime Minister Saad al-Hariri – himself heir to billionaire and former PM Rafic al-Hariri.
Political connections may or may not help affiliated port authorities avoid prosecution, but they will certainly serve as convenient scapegoats for the political elite keen to write off the explosion as one-off gross negligence.
Either way, the cadre of former warlords and businessmen who rule Lebanon as a kleptocratic oligarchy and have enriched themselves at the public's expense cannot be absolved of blame. Druze political chief Walid Jumblatt and Christian politician Sleiman Frangieh have both controlled the ministry of public works (which oversees the port) in recent years; Mr Bassil's party controlled the ministry of justice that failed to act on warnings from port officials. The governing elite's hands are covered with explosive residue, and the public is taking notice.
ANY ALTERNATIVES?
For now, minimizing the fallout from the explosion is as important, at least from a humanitarian view, as justice. Traumatized Beirut residents are picking up the pieces, repairing their shops, and working to restore life in the capital. But equally important is the damage to the port facilities. Lebanon essentially operates like a city-state, with over half the population and the overwhelming volume of economic activity taking place in sprawling Beirut and its environs.
The 4 August blast turned Beirut port into a modern-day Hiroshima. Logistics and shipping offices were gutted, and most of the port's facilities were destroyed. And given the fact that the port of Beirut handles around 80% of seaborne imports (see chart 2), the Lebanese economy risks becoming a periphery without a core.
An inspection of the port facilities reveals that almost all of the offices, the free trade zone, and the covered storage was completely destroyed. The container terminal in the eastern section of the port also suffered immense damage, and according to various media reports, could be out of commission for anywhere between two weeks to several months pending further surveys of the damage and the effectiveness of repair efforts.
The country's key grain silos, storing 120,000 tons of Lebanon's remove key foodstuff, took the full brunt of the blast. Worryingly, Beirut is the only port in Lebanon with grain importing infrastructure suggesting major shortages if an alternative is not found. Grain stored elsewhere is sufficient to cover just six weeks' demand, local media reports. A part owner of the Bakalian Flour Mills tells MEES that while one or two of the silos survived, others were completely destroyed.
Another worrying issue is potential damage to the Beirut oil terminal just east of the container yard. The terminal is Lebanon's largest for oil products imports, accounting for 55% of gasoline, 37% of jet-kero, and 75% of LPG imports this year according to data intelligence firm Kpler (see chart 3). Lebanon was already facing major products shortages before the blast – particularly diesel, gasoline and fuel oil (MEES, 10 July) – and it's unlikely that storage capacity outside of Beirut is sufficient to sustain the loss of the terminal.
In the short term, the port of Tripoli 70km to the north remains the only alternative to Beirut. As Lebanon's second city Tripoli will remain an emergency hub for reconstruction supplies and goods until the Beirut port is back up and running. Marine Traffic data shows cargo ships have already been rerouted to Tripoli with around 15 vessels moored there at present.
Transforming Tripoli, which handled only 16% of Lebanon's maritime shipping traffic in 2019 (see table) into the country's central hub is no easy feat. The northern port boasts only a third of Beirut's 1.2mn containers/year capacity, as well as infrastructure to import grain. Reuters reports that Tripoli's container-handling capacity could be enlarged to 750,000/year if additional cranes were installed, offering little as a short-term solution. Lebanon's third port at Sidon handles just 5% of national traffic.
Once onshore, transporting cargo will prove a logistical nightmare. Lebanon has no rail system, and its congested coastal highway will facilitate goods distribution about as well as a clogged artery.

2: Beirut Port Handled 81% Lebanon's 2019 Seaborne Imports (% Of Total)
SOURCE: LEBANESE CUSTOMS, MEES.

3: Beirut Terminal Is Also A Major Oil Products Hub (% Total)*
SOURCE: KPLER, MEES.

Lebanon's Key Seaports: Beirut Dwarves The Others (2019, Mn Tons)
| | | | |
| --- | --- | --- | --- |
| | Imports | Exports | % Total |
| Beirut | 15.5 | 1.1 | 79 |
| Tripoli | 2.8 | 0.5 | 16 |
| Sidon | 1 | 0.1 | 5 |
SOURCE: LEBANESE CUSTOMS, PORT STATISTICS, MEES.
GLOBAL RESPONSE
Needless to say, Lebanon's already tattered economy and inept government offer very little capacity to rebuild, necessitating emergency assistance from abroad. So far, a couple dozen countries have sent emergency aid – from Iran and Qatar to traditional European and Arab aid suppliers, and beyond.
But looking past emergency aid, Lebanon will need billions in additional reconstruction funds. Locals are insisting that reconstruction efforts be handled directly and not coordinated with the widely perceived corrupt Lebanese government that could look to profit from the crisis. This was all apparent this week when French President Emmanuel Macron paid a high-profile visit to the capital.
"I noted the anger present in the streets of Lebanon," Mr Macron told politicians during a meeting at the presidential palace. "We are in need of a new system in Lebanon. But Lebanon will not be handed blank checks. The [$11bn pledged] at the 2018 Cedre conference is there and is awaiting reforms to be implemented."
Mr Macron made his frustration with Lebanon's elite palpable, refusing to shake President Aoun's hand, ostensibly due to Covid-19 concerns, whilst embracing hundreds of Lebanese during his tour of the destroyed Gemmayzeh district. He also condemned local political allegiance, telling crowds "you elected these people, not me."
The US is also expected to help with reconstruction, but Hezbollah's participation in the current government and the recent Caesar Act sanctioning funds to the militia-cum-political party will complicate such efforts.
Before the explosion, talks with the IMF over a reported $10bn credit facility were going nowhere (MEES, 26 June). A separate emergency facility is one possibility. IMF Managing Director Kristalina Georgieva said in a 6 August statement that "The IMF is exploring all possible ways to support the people of Lebanon. It is essential to overcome the impasse in the discussions on critical reforms and put in place a meaningful program to turn around the economy and build accountability and trust in the future of the country."
NO TURNING BACK?
Beyond the issues of humanitarian aid and reconstruction, the real question is what kind of Lebanon will emerge from the ruins left by years of malaise and the port explosion. For decades, Lebanon has operated on a semi-coercive system of dependence by which political elites distribute patronage in return for support. The feedback loop of services and jobs calcified power and privilege in the hands of the few, over time making political change nearly impossible – a fact displayed best by the lack of concessions last year's protest movement were able to extract.
But the system hasn't worked. A fact no better epitomized than by the port explosion this week. Protests and opposition will be fierce; people are angrier and more destitute than ever. But the ruling class can always opt to splinter discontent on sectarian grounds as it has since the war. The prospect of another civil war has thus always tempered the extent of political opposition: the more radical protester demands become, the greater the prospect of street violence.
But as the sheer misery inflicted this week grows and festers, the less unpalatable street violence in search of a new politics will become. The only remaining question will be whether the elite can be decapitated as a whole, or if its grip on institutional power is simply too strong to subvert.