Gulf refiners are undertaking 12 new projects and upgrades with a combined capacity of just shy of 4mn b/d. These include a refinery with the region's largest crude distillation unit (CDU), expansions and upgrades to improve produced fuel quality, and an innovative project to convert crude directly into chemicals.
The projects will increase the region's crude and condensate processing capacity by 2.71mn b/d in total, since four include renovation of existing plants. After extensive delays, up to eight projects are to reach commercial operation in 2021 adding a total of 2.19mn b/d of new and upgraded primarily distillation capacity, a record 1.39mn b/d of net additions (see table).
Though the two largest elements of these additions have been heavily delayed – Kuwait's new Al Zour refinery and the separate Clean Fuels Project upgrade to existing plants, and Saudi Arabia's new Jazan refinery on the Red Sea coast – both are now set to see full start-up in 2021. All told this should boost the region's primary distillation capacity from 9mn b/d now to almost 10.4mn b/d by the end of 2021 (see chart).

Gulf Refinery Projects: 2.2mn B/D Of Start-Ups Slated For 2021
Refinery/Project
Country
Project scope
'000 b/d Primary Capacity
Online
Status
Total
Increment
Clean Fuels Project
Kuwait
Expansion, upgrading
801
65
2021
CDUs commissioning
Al-Zour
Kuwait
Newbuild refinery
615
615
2021
CDU commissioning
Jazan
S Arabia
Newbuild refinery
400
400
2021
Mechanically complete
Jebel Ali Splitter
UAE
New condensate unit
70
70
2021
In commissioning
Brooge Fujairah
UAE
Modular refinery
25
25
2021
Planned
Karbala
Iraq
Newbuild refinery
140
140
2021
Progress sporadic
Basra Expansion
Iraq
New CDU
70
70
2021
Progress sporadic
Salahuddin Revamp
Iraq
Repairing 2 CDUs
70
0
2021
Progress sporadic
Duqm
Oman
Newbuild refinery
230
230
2024
Under construction
Sitra Expansion
Bahrain
Expansion, upgrading
360
93
2024
Under construction
Basra Revamp
Iraq
Upgrading, new FCC
210
0
2024
Contract awarded
Crude to Chemicals
S Arabia
New refinery/petchems
400
400
n/a
Being re-evaluated
Ruwais
UAE
Newbuild, expansion
600
600
n/a
Being re-evaluated
TOTAL
3,991
2,708
o/w 2021
2,191
1,385

Gulf Refining Capacity (Mn B/D): 2021 Set For Record Growth With Kuwait's Al Zour & CFP Fully Onstream
KUWAIT:MEGAPROJECTS, MEGA DELAYS
Kuwait's $12bn clean fuels project (CFP) upgrade of the Mina al-Ahmadi (MAA) and Mina Abdullah (MAB) refineries will raise their combined CDU capacity from 736,000 b/d to 801,000 b/d and enable production of fuels to Euro 5 specifications. State refiner KNPC started up the last two units at 347,000 b/d MAA in April. It started up the second of two CDUs at 454,000 b/d MAB in November, but is working on upgrading units into 2021 (MEES, 27 November).
2021 is also likely to see start-up of the $13bn newbuild 615,000 b/d CDU refinery at Al Zour. Fellow state firm Kipic took delivery of a first shipment of crude in December in preparation for Al-Zour commissioning. While the refinery could be largely operational by the end of 2021, a decision to expand its planned residue fluid catalytic cracker after project construction was under way may delay full operation (MEES, 4 December).
Multi-year delays at both Al Zour and the various CFP elements are symbolic of Kuwait's chronically poor governance and project delivery record. Will the start ups together with the emirate's new leadership be able to usher in a new chapter in 2021? (MEES, 24 December).
JAZAN: START UP AT LAST?
The other key (delayed) start-up now slated for 2021 is the 400,000 b/d refinery and 4GW integrated gasification combined cycle (IGCC) power plant Saudi Aramco has built at Jazan on the Red Sea coast.
Construction work is now complete but the start-up date remains uncertain – Aramco says the plant "is expected to be ready for full operations in the first half of 2021" (MEES, 20 November).
A recent extensively-researched Financial Times report detailing cost-cutting and alleged substandard quality control at Jazan tallies with comments made by chief EPC contractor Técnicas Reunidas earlier this year. "[If] we had to do it again. We would have done it differently with contractors, suppliers, subcontractors. I think everybody has made a lot of mistakes in this job," CEO Juan Lladó told a 30 July earnings call, adding that "Jazan has been… a nightmare for the last 8 years" (MEES, 7 August).
Jazan development has been complicated by its geographical isolation, far from Saudi Arabia's oil heartland in the Eastern Province – crude deliveries to the plant will have to be made by sea via both the Straight of Hormuz and Bab al Mandal chokepoints (see map). This, as well as the fact the plant itself is just 50km from the Yemen border, leaves the plant highly exposed to attacks from Yemen's Iran-backed Houthi rebels (MEES, 27 November).
The Jazan facilities' isolation also in part led to a sophisticated design whereby the refinery itself is integrated with a $11.5bn, 4GW integrated gasification combined cycle (IGCC) power plant and associated air separation unit. A planned joint venture between Aramco, US gases firm Air Products and Saudi private firm Acwa Power to run the IGCC plant is still negotiating over project financing.
IRAQ: FINGERS CROSSED
Less technically sophisticated, but even more exposed to geopolitical headwinds, is the long-planned expansion of Iraq's refining capacity. Iraq's refining capacity is about 750,000 b/d, with expansion work and war damage repairs being slowed by a lack of funds available to pay contractors.
The Ministry of Oil recently said that Hyundai's 140,000 b/d greenfield Karbala refinery is in "very advanced stages of competition" suggesting it could hit its end-2021 completion target (MEES, 20 November). The ministry is also awaiting completion of a 70,000 b/d new CDU at Basra by Czech contractor TechnoExport (MEES, 21 December 2018): whilst MEES has included this in the figures for possible 2021 expansions, this may well prove generous.
Certainly expecting all three of Karbala, the Basra CDU and the ongoing rebuild of one of the two 70,000 b/d Salahuddin units at the Baiji refinery in the north of the country, to come online in 2021 is highly improbable. Indeed, with IS launching renewed attacks in the vicinity of Baiji – including on the nearby Sininya topping refinery (MEES, 18 December) – changes to Iraq's effective refining capacity could be down as well as up in 2021.
Looking further forward, Iraq's oil ministry has awarded Japan's JGC a $4bn project to revamp the existing 210,000 b/d Basra refinery for 2024 start-up (MEES, 11 September).

Middle East Oil Refineries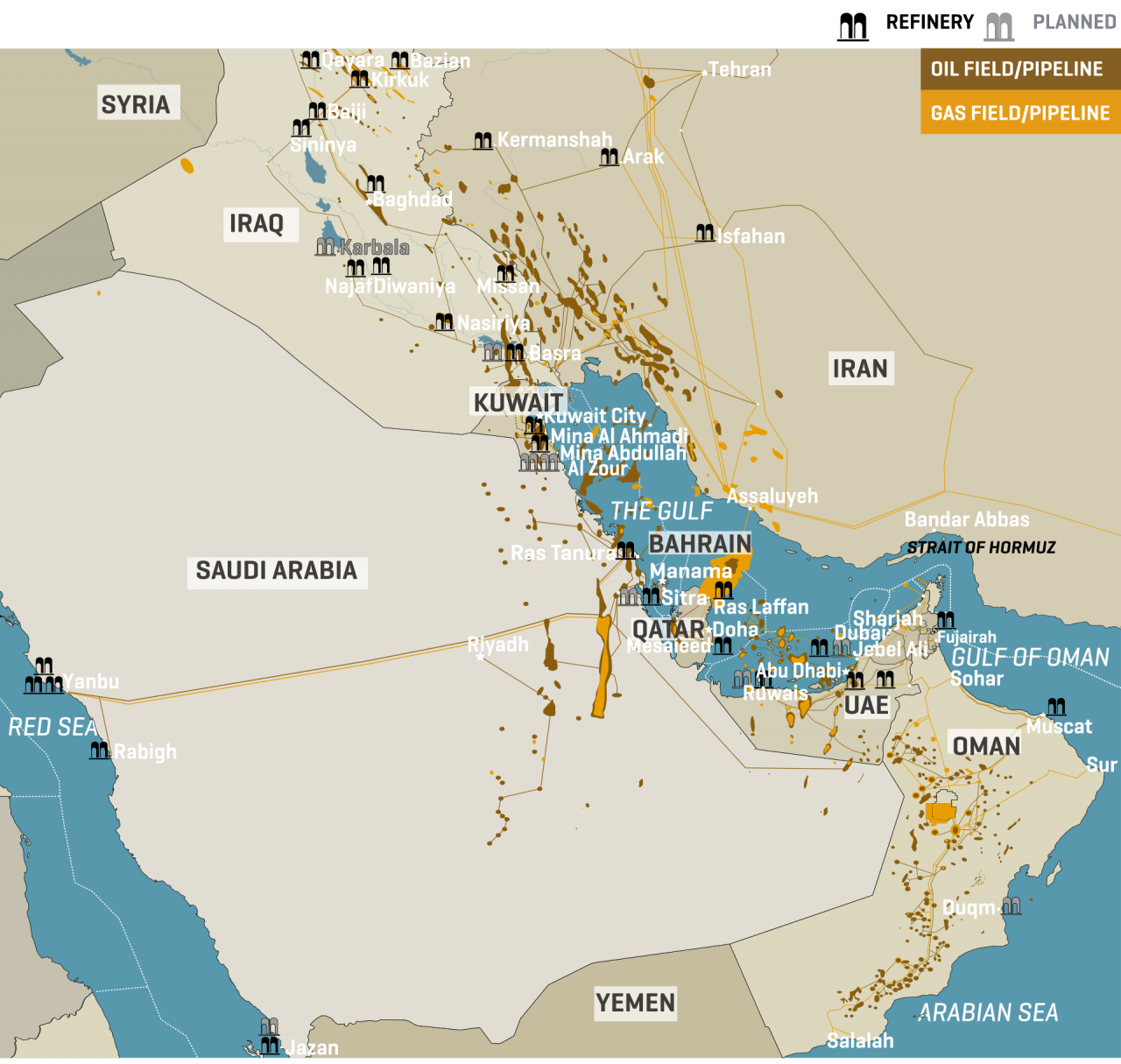 DUBAI, FUJAIRAH
The region's other planned 2021 expansions are in the UAE. Dubai's Enoc is nearing completion of a $1bn third 70,000 b/d condensate splitter at Jebel Ali. EPC contractor France's TechnipFMC completed final testing in April, but no start-up announcement has followed, suggesting delays. At contract award in 2016 Enoc was anticipating start-up in 4Q19 (MEES, 23 September 2016).
In Fujairah, meanwhile, the focus has been on small modular refineries. Local firm Ecomar started up one such plant earlier this year (MEES, 26 June), whilst Brooge Energy plans a similar 25,000 b/d plant in the second half of next year (MEES, 14 December).
MEDIUM TERM PLANS
Beyond 2021, Oman and Bahrain expect to complete refinery projects, with both originally predicting 2022 start-up but 2024 more feasible. The DRPIC joint venture of state firm OQ and Kuwait's KPI began an $8bn construction of a 230,000 b/d refinery at Duqm in 2019 (MEES, 22 March 2019). However, DRPIC has suspended work on a petchems project to be integrated with the refinery (MEES, 6 November). Bahrain's Bapco is expanding CDU capacity of its 267,000 b/d Sitra refinery to 360,000 b/d and enhancing its upgrading capacity (MEES, 24 May 2019). The company announced in May that the $6bn project was 50% complete.
More ambitious is Saudi Arabia's planned $20bn crude oil to chemicals (COTC) project at Yanbu. This would involve the commercialization of two proprietary Aramco processes to convert 400,000 b/d of Saudi crude into 9mn t/y of olefins and aromatics as well as base oil. Aramco originally planned to build new refining units and a novel hydrocracker for start-up in 2025. However, Aramco has since decided to re-evaluate COTC in light of the financial impact of the global Covid pandemic and will look to integrate existing refining capacity into COTC, likely delaying start-up (MEES, 23 October).
Abu Dhabi's Adnoc, with 837,000 b/d of refining capacity in two refineries at Ruwais and a further 85,000 b/d in a plant on the outskirts of Abu Dhabi city, plans to invest $45bn in turning Ruwais into "the world's largest integrated refining and petrochemicals complex. This is part of a 2030 strategy to boost refining capacity by 60% to 1.44mn b/d and more than triple petchems capacity to 14.4mn t/y by 2025 (MEES, 13 November). Initial plans for a 600,000 b/d newbuild refinery have been revised, with Adnoc leaning instead towards a 400,000 b/d facility alongside expanding existing plants by 200,000 b/d.
Of Gulf countries only Iran and Qatar do not have new capacity under development, though Iran, having added 480,000 b/d of condensate splitter capacity at the Persian Gulf Star complex between 2017 and 2020 (MEES, 24 July), could dust off stalled projects should US sanctions ease under incoming president Biden (MEES, 13 January 2017).