Interview conducted by Waylon Fairbanks and Jamie Ingram in Baghdad, 8 April.
Thank you for sitting down with MEES.
You're most welcome.
Q: Despite an abundance of oil, Iraq's lack of refining capacity has forced it to import around 100,000 b/d of oil products to meet domestic demand. What is the ministry doing to increase output from existing refineries? And how is work on new refineries progressing?
A: This is a very important issue actually and one of the challenges that oil ministers have faced since at least 2010. Even earlier, when I was previously a minister [2004-2005], we faced the same lack of supply, coupled with rising demand in Iraq. So we were forced to turn to imports [see analysis, MEES, 12 April].
Imports were mostly of gasoline and gasoil. And with time we began importing kerosene and even LPG. This has continued since 2004 [LPG imports were halted in 2016]. In 2005 we were looking at a model for possibly engaging IOCs and investors to build refineries in Iraq. But this did not materialize. The outcome of the first engagement with a number of companies in April 2005 was that they were ready to build a refinery provided it was linked to an upstream opportunity.
The ministry offered this model in 2010 with the Nasiriya field, which was to be developed up to 300,000 b/d, alongside the construction of a modern refinery with the same capacity. It took them four years and it did not materialize.
The differences [between the ministry and IOCs] were quite large, and some companies were unhappy with the financial return and so on. One reason for that was that Nasiriya is around 250km away from the shore, locking them to the domestic market with no possibility for exports.
When I assumed my ministerial duties [in October 2018] there were at least five opportunities for investment [in refineries]. One in Missan, at Amara; two at Basra – the Basra refinery and the Fao refinery, which was almost a replacement for Nasiriya at 300,000 b/d; one at Wasit [Midlands] and one in Kirkuk. With at least four of them, we had serious issues with the financial capabilities of those who the ministry was dealing with. Very serious issues. I found they were incapable of providing satisfactory financing for the plans. So we are stuck with them and have had meeting after meeting looking again into their [feasibility]. And I almost forgot Nasiriya, which is now planned to have 150,000 b/d refining capacity.
I had hoped, before I assumed the duty, that those projects were ready for signature and so I could sign all the various contracts. We sorted out the various issues like who would sign the oil supply, who would sign the license, who would sign the lease to rent the land and so on. They were all sorted out. But all of them were faced with problems over the financial capability of the investors. So, except for the Kirkuk project, I don't want to say we are quite at point zero, but with at least two of them, we are asking for bids or interested investors.
Q: There are no advanced talks at this point?
A: We are not talking with anybody right now. We are offering once again at least the Fao refinery, and we have a shortlist of the famous names in refining, capable international oil companies and refining companies.
Q: Regarding the shortlist, do you know when you'll be able to come to an agreement?
A: Some have already bought a data package and we hope that within weeks, by the end of this month, we will speak with them.
Q: And what about the Karbala refinery project?
A: Karbala faced the issue of payments – it is constructed in accordance with an EPC contract with Hyundai. This was sorted out last year when the government started paying. We are fully committed, and the prime minister and I visited the site. Construction is now at a much higher rate than before, advancing at a rate of 3% per month. We agreed that in May 2021 it will begin commissioning. So by end-2021 the refinery should be fully commercial.
And this is a very modern refinery: 150,000 b/d. The important thing is that it will supply us with a higher percentage of middle distillates such as gasoil. Much less fuel oil – 18% maximum versus our current 45-50% average. Plus there are specifications such as octane 94 gasoline, and lower sulfur content in the gasoil and kerosene. This is the only refinery we have underway with a fixed completion date and it is progressing well.
Q: Moving on to gas, Basra Gas Company (BGC) recently took FID to expand capacity to 1.4bn cfd. It's still very unclear how the ministry expects to hit its target of 3bn cfd gas production by 2022. We are curious how this could be feasible with non-BGC production currently just around 650mn cfd?
A: We have already passed the award for the gas utilization project at the Halfaya field in Missan, which is 300mn cfd. We brought it here to the ministry and it was sent to the energy ministerial council [formerly the energy committee] and the council has approved it and sent it to the council of ministers. We expect them to pass it either tomorrow or next week. It will be discussed and I am more than confident that it will be approved. So this is the first project and it will take 30 months for completion.
The second project is Ar-Ratawi. We are in discussions with a number of parties and we hope very soon that we will award this project. There are two options for the different interested parties. One party, as we asked, is looking to construct an NGL plant, to produce dry gas and the rest of the liquids—so it is an EPCF [engineering, procurement, construction and financing] arrangement model.
The other one is a group of companies—I won't mention names—who are interested not only in gas processing, but also in building a petrochemical plant based on the ethane produced at Ar-Ratawi. Our associated gas in the south is rich in ethane. We are in discussions and we don't want to waste much time, we expect very soon to go with either this course or that course, either only NGLs or with the petrochemicals, depending on how good this second offer is. A petrochemicals plant is very much dependent on the investment model. If we can agree on this then we can move forward, if not then we stay with the NGLs and gas processing model.
Then we have another project now in discussions with Orion, an American company in Bin Umar. They've carried out some technical and financial work and are discussing this with the South Gas Company under our supervision.
And then we already have a 200mn cfd plant in Nasiriya that is being developed [by Baker Hughes General Electric]. The contract is signed and they are working on the ground now. It will collect the gases from Nasiriya field and Petronas' Gharaf field in addition.
These are the main projects, and of course we have a grand project with ExxonMobil which also includes gas processing, if we develop Bin Umar and Ar-Ratawi fields they are both rich in associated gas. The gas-to-oil ratio is 2,000ft³ to one barrel of oil. This is dependent on how successful the two sides are on reaching an agreement. There will then be a gas package for the two fields.
Q: You mentioned the ethane developments. There was earlier an agreement with Shell over the Nebras project. Is this still progressing?
A: It is. It is still there. The joint management committee is meeting from time to time. They have met and I've received some notes from our representatives - it's a 50:50 joint venture. We've actually done more than we normally do as the Ministry of Oil, this is after all an industrial plant and therefore with the Ministry of Industry. We are only a supplier of the feedstock and the fuel. But what we have agreed to, and what has become official, is that we own 25% as the Ministry of Oil. It is moving forward. It was delayed, but we are now progressing.

Key Iraq Oil & Gas Infrastructure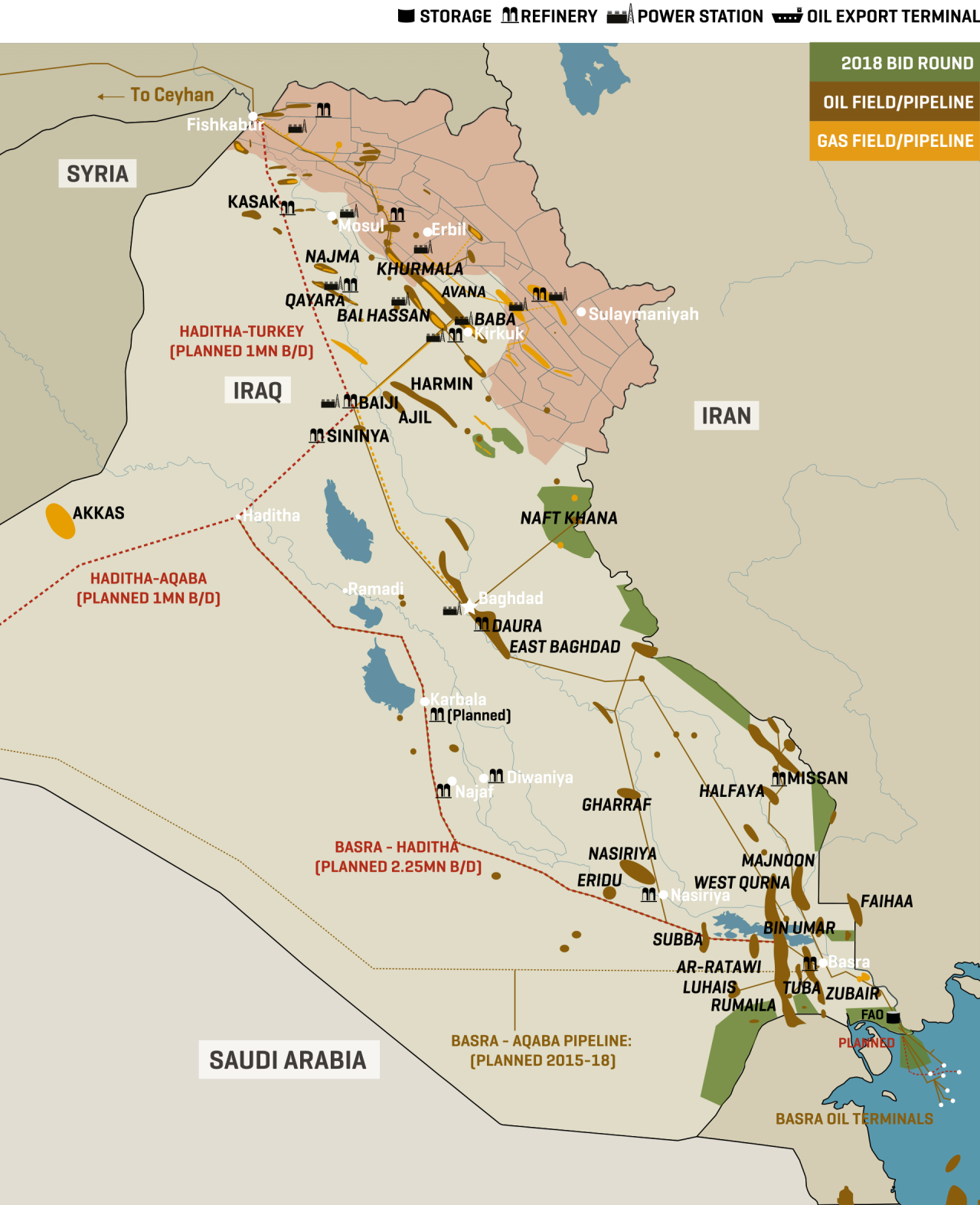 Q: So you are progressing with two fairly large petrochemical plants?
A: Yes, potentially two. The second, Ar-Ratawi is not final and is very much dependent on the investment model If we cannot agree we will stay with the NGL gas processing.
Q: And what about the role of non-associated gas fields?
A: There are two main fields, Mansuriya and Akkas. Of course it's very unfortunate, they were at advanced stages before Daesh [Islamic State] intervened. At Mansuriya we could not really continue with the consortium led by [Turkish state firm] TPAO and we reached a deadlock [in 2018].
They could not really resume work again. There was a decision, not by me but by the previous minister, and we continued the same policy, to give them termination of contract and now we are discussing this seriously about whether we do it by ourselves or engage a foreign company through our Midlands Company. We badly need this field. It is near Baghdad and will supply gas to major power stations Mansuriya, Bismaya and Sadr.
The Koreans were working at Akkas and they had to pull out of the field because of Daesh issues, and we are now trying to do our best to secure the field. I've sent in specialists in security, we are in talks with our armed forces and high command, and we are securing the field with different mechanisms of tight security. We shall call Kogas to resume their duties and we shall see what will happen, but we are at this stage. But before the end of the year I must have someone operating there.
We cannot just leave it. Of course, the local authorities in Anbar have on many occasions confirmed that the field is secure. But I want it to be more secure, to the satisfaction of Kogas.
Q: Moving to upstream oil, Iraq's 5mn b/d production capacity goal looks like it is going to happen by the end of the year. Beside production increases from Basra's big IOC-operated fields and Halfaya, which state operated fields are poised to ramp up production?
A: Well in the north, in Kirkuk and the vicinity, there will be a small increase by the end of the year. Perhaps by 20,000 or 30,000 b/d and so on.
Q: From which fields?
A: From Ajeel and Hamrin and those fields which are ramping up. Even from Kirkuk and Bai Hassan and so on there will be small additions. But BP is working with us now, and they have their engineers in Kirkuk working with North Oil Company (NOC). We are awaiting the result of their study and we hope that by the end of the year we will have clarity.
The expected potential from the fields within Kirkuk Governate is 600,000-700,000 b/d from a level now of around 400,000 b/d, so an increment of 300,000 b/d. Most importantly this entails a sustainable plateau for a number of years.
The second one is the heavy oil engagement. [Angolan state firm] Sonangol is working with us again on a drilling program at Qayara and Najmah. As I said, it is heavy oil, with high sulphur, and of course evacuation is a major problem, so what we are discussing is building a refinery nearby. It could be in two stages, first 100,000 b/d and then followed by a second 100,000 b/d increment to take the total to 200,000 b/d.
This will make the Mosul area of Nineveh once again an oil province. There are two fields to the north that are adjacent to them [Qasab and Jawan] and we could look into them in the future.
In the south of course, if we finally agree with ExxonMobil/CNPC, there are two oil fields that can be developed – Bin Umar and Ar-Ratawi. Up to 500,000 b/d or more. And this is a light oil from the Yamama reservoir: 38-40° API.
As for the other fields, we are now of course developing Nasiriya oil field by ourselves. This is of course significant, and it could go up to 200,000 b/d or even 300,000 b/d.
Q; What is Nasiriya output currently?
A: Now it is close to 80,000 b/d, but there is a drilling program which will increase this. We don't have a problem with the facilities, the main issue is to bring more oil from under the ground.
The other fields, they all have the potential of ramping up – like Luhais, Tuba, Subba – but they are not very significant really.
Q: There were reports that those fields were included in the MoU with Chevron.
A: Now they are discussing, they came to us and we saw them many times and talked to them. We told them to work with Basra Oil Company and they are working with them – technical cooperation. But there is no commercial commitment, not yet.
Q: You mentioned ExxonMobil and CNPC. What is the current situation regarding the Common Seawater Supply Project?
A: We are at a juncture, at a point where either we move forward or not. This project is a grand, compounded project, that is tailor made. They have put so many different projects all together. Basically it is an infrastructure project.
As an example, the water injection project, CSSP, the storage tanks, pipelines, pumps, offshore terminals and pipelines. And in order to finance those projects the two oilfields were included [Bin Umar and Ar-Ratawi]. Discussions have been going on for almost four years.
The only issue left is how much they get – the commerciality, the profitability. And we have a meeting today. I hope it will be the last meeting, because we cannot carry on for long. There will be no signature today, but either we agree or not.
Q: Regarding foreign companies, there was a bid round held one year ago, but despite six blocks being awarded, no deals have been signed yet.
A: The fifth bid round. I looked at it and there are some differences of opinions within public media and a number of MPs, former oilmen and so on. Some points are valid, others are not really. Those fields and exploration blocks, they cannot really be compared at all with the first and second bid round. They are marginal and they are mostly on the borders.
And when you look at those interested parties who won the contract opportunities, none of them is a major oil company. So I actually put a hold on this for a time and we will discuss it seriously and look at it again. Of course, it is not only me, contracts would need to get the council of ministers' approval. So, there is no decision right now on it, we have not said we will not go forward and we have not said we will sign tomorrow. We need some time to study them [see analysis, MEES, 12 April].
Q: Would you consider a sixth bid round?
A: I think we have enough contracts on the ground, we have signed the agreement with Opec under the former minister and I also continued myself with the production curtailment in order to stabilize the market, so we cannot really commit ourselves.
And the legacy of those contracts, you know there is a demand for cash flow from our side, they are not like other contract types where the contractor takes the full commitment for investment with a grace period to the host country and so on. They are a burden, especially when the price of oil is low, as we have faced since 2014, and for three or four years we suffered a lot. The budget was severely hit because of this commitment. They [IOCs] spend for the first quarter, and we pay them within the second quarter – the call for cash is really quite heavy and quite difficult to meet.
Q: There have been exploration successes recently such as Eridu, which seems to be on track, and Salman as well.
A: That's true, yes. And not only these, but also in the south east, to the east of Basra we have Faihaa and Sindebad, where we are producing now and trucking the oil. The next stage is to lay a pipeline.
In all those discoveries, the oil in place is quite high. So, these are very interesting discoveries. Lukoil approached us for an early production scheme and we are discussing this. They have added a substantial amount to the oil reserves. Of course we need more appraisal work to have certainty about the size of the reserves. But definitely they will add capacity.
Q: When could Lukoil start producing from Eridu?
A: We could produce any time, but we don't want a project that is done in a hurry and where we have to truck [sizeable volumes]. There is the strategic pipeline not far away and we can lay down a pipeline to connect. We have differences with them regarding the commercial side. According to the contract, they have to declare commerciality, OK, commercial production. And of course, at this scale they have to have an early development plan, which they have not yet supplied.
They are interested in early production because it will generate early cash flow and there is nothing wrong with that. I am an oilman, I understand this. But also we have a contract which governs our relationship and therefore they should declare commerciality, they should come to us with an initial development plan, and then we will move forward.
Q: In terms of adding production capacity, maybe the biggest obstacle would be lack of southern export capacity. You have plans to increase this with a new pipeline.
A: Our people are working with the contractor [Leighton] now to connect the new pipeline, to feed the SPMs. Of course the current pipelines are old, they were built in the 1970s and so therefore we need to build even more pipelines. Either we do this ourselves or as part of the overall package with ExxonMobil. It is planned that we will go up to 6.5mn b/d net capacity.
Q: When are you targeting 6.5mn b/d capacity by?
A: It will be progressive, within a few years we will add more, up to 4.5mn b/d and so on. But within let us say 5-10 years, at the latest 10 years, we will have this total capacity. Not only 6.5mn b/d, but we will have the onshore Fao terminal and we will have the flexibility and more tank farms, in-field storage capacity will also be increased. And Fao will also add capacity.
With so many pipelines, it will allow us to segregate and separate our crude oil. It could even allow us to have three different oils – Basrah Heavy, regular and a light oil. We are seriously discussing this.
Q: What is the current export capacity from the south?
A: We already have the ability to go up to 3.8mn, 3.7mn b/d from time to time. But overall, we don't want to put too much pressure on the offshore pipelines [see analysis, MEES, 12 April].
Q: Even after increasing capacity in the south, you will still be restricted to just one export route. But there are obviously talks over a pipeline connection to Jordan, can you update on that?
A: That is strategic. It's more than just capacity. We have a project to reconnect again the Kirkuk fields to Turkey along the same old ITP route, the Iraq-Turkish pipeline.
And the other one is Basra-Aqaba, where we had to change the original route because of Daesh, with the route going into the desert. But that route was not really surveyed and so on. We want to go back to the originally planned route, to Haditha K3 [see map]. There, we have the two routes again. One would go to Aqaba, and the other would reconnect our northern route with the south.
In this case, we would have the flexibility of pushing oil north and west. Of course the northern oil provinces would also be connected.
Q: What capacity are you envisioning for this pipeline network?
A: Well, the segment between Basra and Haditha will be 2.25mn b/d. But from Haditha to Aqaba will be 1mn b/d, and the other one [Haditha-Turkey], the connection between the southern and northern networks, will also be 1mn b/d.
Q: You've been the oil minister for nearly six months now, what have you highlighted as your key initiatives? What does the oil sector in Iraq need, what are you pushing the most?
A: For me, I don't have issues with the technical or planning, or technology from before, with the former leadership of the ministry. There were plans and we can improve on these, and we did actually make some changes. The challenges really are social and political. The political background is really quite difficult.
People want employment and I am working very hard on that. Very soon, this week or at the latest next week, we will take in several hundred oil engineers. The problem is that with those oil engineers, they cannot work in other disciplines. This is one challenge.
And another challenge is that there are so many people, in the private sector or elsewhere, who want to, let's say, build various plants, asphalting plants, or gasoline distribution station, so on and so forth. And that's not according to our demand, or our specification or plan, it is their need, creating job opportunities.
We are concentrated on making sure that what we are doing right now is to first of all supply maximum amounts of fuel for power generation, this is number one.
Number two, is to focus on bridging the gap between supply and demand in terms of refined products. We have been working very hard on that. And of course, a similar priority, or even more, is to reduce gas flaring. These are quite difficult and time consuming. In Iraq you cannot get a project through and sign it in a short time.
Q: You mentioned the politics, and one of the things we have heard is that the new Prime Minister is seeking to reduce the number of ministerial voices dictating oil policy. How is that going, in terms of the internal politics of the cabinet?
A: It is not a problem to listen and discuss and get engaged with learned people. I don't have a problem with that, the doors of my office are open. The issue is with those people who do not understand oil policy and so on. They don't understand that we need diversity of outlets. They do not understand that in reality, the minister does not engage in commercial matters.
It is not my business, we have independent regional oil companies such as Basra, Missan and others for this. And they don't understand that the minister does not assign jobs for people, it's not my business. I supervise, and intervene when it is required to make things right and correct.
They come to me with dossiers of demands and so on, to build an asphalting plant or whatever, or employ this man, transfer this, and appoint this person as the director general. I don't accept this, I don't succumb to it. Nor does the prime minister, and we have so far kept oil policy away from external pressure.