After six years of war, the Syrian government finally has more to consider than merely survival. US-backed Kurdish militias and the Syrian Arab Army (SSA) have routed IS militants—besieging strongholds and liberating large swathes of territory. Rebel-held areas near Damascus, in Idlib and the south are increasingly subjected to Russian bombardment.
The regime now holds much of Syrian territory including the key population zones in Damascus, Homs, Aleppo and the coastal plain (see map).

Syria's Energy Infrastructure. Political Division As Of September 29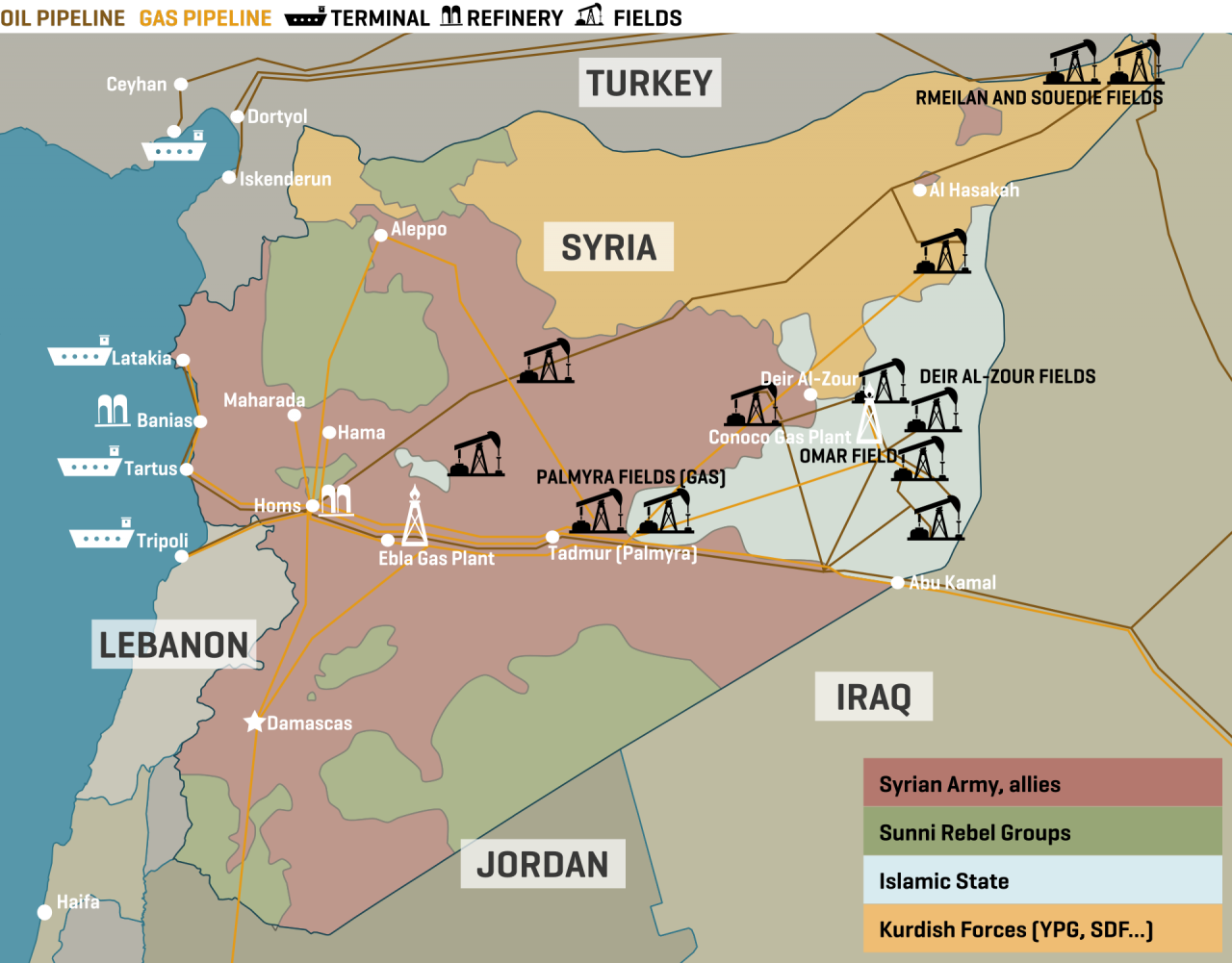 KEY ENERGY ASSETS
In addition to restoring territorial sovereignty, the SAA's recaptured territories include key energy assets. Syria's two refineries in Homs and Banias (each 120,000 b/d capacity) and oil terminals in Latakiya and Tartous remained in government hands throughout, but IS control of gas fields near Palmyra and the oil fields in Deir al-Zour effectively choked the regime. Government-controled output fell to 7,700 b/d in early 2016, from 387,000 b/d in Q1 2011, just before the outbreak of war.
Given that oil exports accounted for 30% of revenues ($4.1bn) in 2010 and bolstered foreign currency reserves, linking fields in the east with downstream infrastructure in the west has remained imperative for the embattled government throughout the war.
Minister of Petroleum and Mineral Resources Ali Ghanem announced earlier this month that operations resumed at the 88mn cfd-capacity Ebla gas plant, which services the Ash-Shaer and Cherrife fields west of Palmyra. The plant was badly damaged by IS rockets launched during the Palmyra offensive in early 2017.
Small-scale production of 35mn cfd at Ebla resumed this month: Mr Ghanem optimistically claims this will ramp up to 75% of pre-war production, 66mn cfd, by 2018. Gas production is crucial to meeting Syria's domestic power demand. The Homs refinery had also been damaged by rockets but was repaired in February 2017.
DEIR AL-ZOUR FIELDS: FIGHTING CONTINUES
Further east, military operations focus on remaining IS oil fields in Deir al-Zour province. It retains around 80% of the area's fields despite the SAA breaking the three-year siege on the provincial capital earlier this month. Kurdish and Syrian forces encircled IS positions there, forcing a fighting retreat across the Euphrates where many of the main oil fields are located. State-led Al Furat Petroleum Company (AFPC) produced about 90,000 b/d there before the war broke out—just over 25% of Syria's total output. The Syrian government owns 50% of AFPC whilst Shell and Chinese state firm CNPC have minority stakes.
At its height in 2015, IS maintained production in excess of 20,000 b/d from these fields. US-coalition airstrikes severely damaged infrastructure in order to cripple IS oil trade, leaving the Deir al-Zour region in particularly rough shape. Furthermore, IS set fire to the oil and gas fields as they abandoned positions.
ASSAD/KURDISH STAND-OFF
These fields along the Euphrates are now at the center of strategic positioning by the Assad regime and Kurdish forces. Many fields on the west bank are in SAA control while the Kurds have wrestled a couple of east bank fields away from IS.
Just two days after the Kurdish Syrian Democratic Forces (SDF) took the 'Conoco' gas plant from IS on September 23, SDF officials alleged the Russian Airforce bombed SDF positions there. Most east bank fields like Omar, Ezba, and Tanak remain under IS control, and with both SDF and SAA forces pushing southeast down the river banks toward them, Russia looks to have sent a warning to Kurdish forces not to advance any further.
Heavy sweet crude-producing fields Rmeilan and Souedie lie in solidly Kurdish controlled territory bordering Iraq, and produced 110,000 b/d in 2010. Local Kurdish authorities have consistently produced and refined about 15,000 b/d from these fields for local consumption.
After clashes with government forces in 2012, Kurdish parties defiantly proclaimed northern Syria as Rojava an autonomous, albeit non-contiguous, Kurdish region. Syrian and Kurdish forces have mostly coexisted since 2013, but the status of Rojava will dominate post-war talks.
Kurdish operations in Deir al-Zour province look aimed at gaining leverage ahead of talks. Syrian Foreign Minister Walid al-Muallem mentioned this week that for Kurds who want autonomy, "negotiations and a dialogue are possible on the matter."
Even if Assad and Kurdish officials can manage a peaceful settlement, current sanctions will handicap oil and gas production. A pariah throughout the conflict, western governments hit Assad with economic sanctions beginning in 2011, causing IOCs to declare force majeure and cease operations (MEES, 12 December 2011).
Europe received over 95% of Syrian crude exports before the civil war erupted. As long as these sanctions remain in place, western IOCs such as Shell will stay away and lucrative European export markets will remain closed.
IRAN: REFINERY PLANS [BUT WHERE'S THE CASH?]
More likely, Assad will therefore rely on his key wartime allies Russia and Iran to rehabilitate Syria's shattered economy, and preliminary evidence corroborates this. On 26 September, Iranian media reported a planned $1bn oil refinery deal in Homs with an initial processing capacity of 40,000 b/d to ramp up to 140,000 b/d. Iran also announced plans to invest heavily in Syrian "electricity equipment, power plants and transmission lines." Whether Iran is currently able to fund these projects is another question.
Meanwhile, President Assad claimed in April 2017 that Russian companies were in the process of signing oil and gas deals with Damascus. The one international firm to have signed an exploration deal in recent years – Russian state Soyuzneftegaz for offshore 'Block 2' at end 2013 – has since walked away.
President Vladimir Putin will be expecting post-war dividends for Russia's massive investment to keep Assad in power. Russia constructed its Khmeimim Air Base in Latakia in 2015 and reports suggest work on a second airbase at Deir al-Zour. Russia signed a 49-year lease extension in January to maintain sovereignty over its naval base in Tartous, its only Mediterranean naval facility.