Iraq Hopes For IPSA Pipeline Access With Riyadh Rapprochement
Tentative moves towards improved Saudi-Iraqi relations raise the possibility of Iraq regaining access to a 1.6mn b/d export pipeline through the kingdom. This could prove a win-win for both.
Saudi Arabia appears to be adopting a more nuanced foreign policy toward neighboring Iraq. It's early days yet, but there are signs of more cordial relations emerging which could offer considerable potential benefits for both.
Iraq has suggested that it desires access to an export pipeline through Saudi Arabia, which would help ease its capacity constraints. For Saudi Arabia, this would afford it political influence in Baghdad, partially checking regional rival Iran.
STRATEGIC REAPPRAISAL?
The history of Saudi-Iraqi bilateral relations is not a positive one. Diplomatic relations were severed following Iraq's invasion of Kuwait in 1990, and the border closed. Saudi Arabia also viewed post-2003 developments in Iraq with suspicion due to the political empowerment of the Shia majority and the political leadership's links to Iran.
Rather than seeking to offer an alternative to Tehran, Saudi Arabia publicly shunned Iraq's leadership. Notably in 2012, Saudi Arabia and its fellow GCC states – with the exception of Kuwait – boycotted the Arab League Summit in Baghdad. This merely served to drive then-premiere Nuri al-Maliki even closer to Iran.
But with new figures at the helm of each country a rethink appears to be underway. Iraqi Prime Minister Haidar al-'Abadi has fewer ties to Iran than his predecessor. Indeed, Mr Maliki's links to Iran have only intensified over the years and he is now one of Mr 'Abadi's biggest challengers. With parliamentary elections next year, another 'Abadi term would be looked on more favorably in Riyadh than the likeliest alternatives.
In Saudi Arabia, King Salman acceded to the throne in January 2015 and his son, Crown Prince Mohammad, has since become an increasingly influential architect of policy ( MEES, 23 June ). Although Saudi Arabia appointed an ambassador to Iraq in 2015, relations stayed poor. But there have been positive developments in recent months.
A number of high level visits have been held in 2017. Saudi Foreign Minister 'Adil al-Jubair visited Baghdad in February – the first such visit since 1990 – and Mr 'Abadi met the Saudi King in Riyadh in June. Then in August an agreement was reached to reopen the border crossing at Arar, the first such opening since 1990.
The border announcement followed an 8 August visit by Iraqi Oil Minister Jabbar al-Luaibi to Riyadh for talks with his counterpart Khalid al-Falih. Mr Luaibi subsequently said they "decided to form joint committees to study and evaluate" potential oil, gas and petrochemical projects.
Iraq Eyes Red Sea Export Routes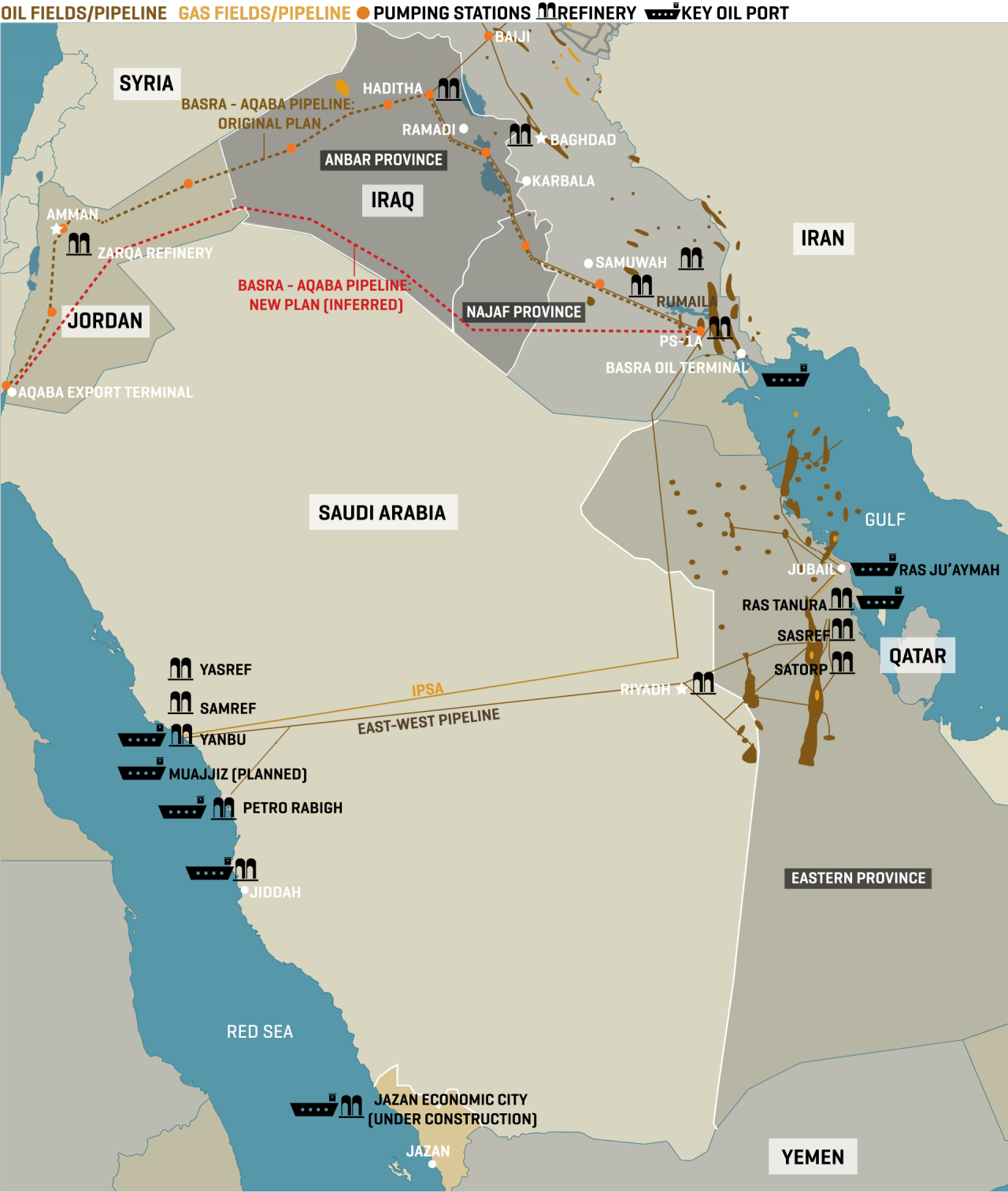 PIPE DREAM?
During Mr Luaibi's visit, former Iraqi oil minister and current MP Ibrahim Bahr al-'Ulum voiced optimism that the improved state of relations could result in Iraq regaining access to an export pipeline through Saudi Arabia. The 1.6mn b/d Iraqi Pipeline through Saudi Arabia (IPSA) supplied Iraqi crude to Saudi's Red Sea Mu'ajjiz terminal prior to the Kuwait invasion (MEES, 1 July 1991).
The Saudi government confiscated the IPSA facilities in mid-2000 in lieu of reparations for the 1990 war and started utilizing the East-West parts of the pipeline system to carry its own oil to the Red Sea. It subsequently piped gas to power stations in the west through the connection. However, in 2012 concerns over the potential closure of the Strait of Hormuz exiting the Gulf led Saudi Arabia to pump test volumes of crude through the pipeline (MEES, 2 July 2012).
More recently, Saudi Arabia says it plans to re-open the 1.6mn b/d Mu'ajjiz terminal in 2018. This would put total Red Sea export capacity at approximately 6.1mn b/d ( MEES, 19 May ). This is far in excess of Saudi crude and product exports to Europe (see chart). Even adding in part of the 1mn b/d or so Saudi Arabia typically ships to the US (given that VLCCs can't transit the Suez Canal it is often more economic to send such shipments round southern Africa) there is still plenty of capacity spare –Riyadh's primary motivation at Mu'ajjiz appears to provide strategic flexibility and hedge against disruptions around Hormuz.
The rehabilitation of Mu'ajjiz would boost total export capacity above 13mn b/d; again, far more than 2016's record crude and products export figure of 9.02mn b/d.
There is therefore ample room to export some volumes of Iraqi crude via Saudi Arabian facilities.
IRAQI EXPORT CONSTRAINTS
Iraqi exports from its southern terminals averaged 3.24mn b/d in the first seven months of 2017, slightly down on the same period last year. This is close to Iraq's southern export capacity of around 3.8mn b/d from the Basra Oil Terminal, Khor al-Amaya Oil Terminal and three single point mooring (SPM) systems ( MEES, 26 May ).
Installation of another SPM is planned to be completed this year, with a name-plate capacity of around 800,000 b/d, and Khor al-Amaya terminal is also being upgraded ( MEES, 27 January ). However, capacity will continue to be constrained by other infrastructure limitations including storage capacity and pumping stations. Moreover, Iraq's southern Basra terminals are prone to disruption from stormy weather. The state of the north-south portion of IPSA is unclear, but the time and cost of rehabilitation is unlikely to prove a major deterrent.
The key issue as ever remains politics and despite the recent tentative moves, significant improvements to bilateral relations are necessary for such a development to be realized.
Mu'ajjiz would give Iraq the opportunity to avoid shipping volumes through Hormuz and would also provide a cheaper and quicker route to European markets.
The EU imported 836,000 b/d from Iraq in 2016, up 8% on 2015's 772,000 b/d (see chart). However, a sizeable proportion of this will be volumes from the semi-autonomous Kurdistan region which exports via a 700,000 b/d pipeline to Turkey's port of Ceyhan.
Given Saudi Arabia's spare export capacity, it ought to be able to handle up to 1.6mn b/d of Iraqi volumes with little difficulty. The revenue in pipeline fees would be welcome, but the real bonus would be political. Iraqi crude exports through Saudi Arabia would give Riyadh political influence with Baghdad's administration.
Prime Minister 'Abadi would doubtless also welcome a political counterweight to Iran which exerts considerable economic influence alongside its proxy political and militia groups.
ALTERNATIVE OPTIONS…
IPSA would afford a useful export outlet for Iraq, but the government is also planning alternate options. A planned crude export pipeline from Basra to Jordan's Red Sea port of Aqaba is intended to carry 1mn b/d. The project has been long delayed due to the conflict with Islamic State (IS). The original planned route was through territory held by the group in Anbar Province but a re-routed longer path envisages the pipeline skirting the Saudi border ( MEES, 19 June 2015 ). Any renewed access to IPSA could operate in parallel to the Basra-Aqaba route or replace the scheme.
Iraq's northern export outlet (the 1.6mn b/d Kirkuk-Ceyhan pipeline) has been out of action since the IS advances of 2014. But July's liberation of Mosul could result in Baghdad opting to repair this export link too.
Talks have also been held with Iran over constructing a pipeline to export oil from Kirkuk via Iran. But this looks unlikely to be realized any time soon. The Kurdistan Regional Government (KRG) could opt to oppose a route through its territory.
The alternative route would be through Salaheddine and Diyala provinces, most likely crossing into Iran around Naft Shah. But despite recent military successes against IS around Mosul, the group still poses a significant threat to infrastructure in areas in these provinces.
Eu Crude Imports From Saudi Arabia Have Been Falling...
...Whilst Those From Iraq Are On The Rise ('000 B/D)