The all-but-complete collapse of the government in San'a is a headache for Riyadh as well as boding ill for US counterterrorism strategy.
-By Simon Henderson
A political deal may be in prospect in Yemen where confusion has reigned in San'a for more than a week after Houthi rebels seized the presidential palace and laid siege to the president's residence and that of his prime minister. But the prospective result - more Houthi influence in the government of President 'Abd Rabu Mansur Hadi - will concern neighboring Saudi Arabia, which sees the Houthis as a proxy for Iran.
The subject of Yemen was mentioned in the conversation between new Saudi King Salman bin 'Abd al-'Aziz and visiting US President Barack Obama in Riyadh on 27 January, but no details were revealed. From a US perspective, Yemen is a counterterrorism problem. Action against Al-Qa'ida in the Arabian Peninsula (AQAP) targets has continued - three died in a 27 January drone strike. In September 2014, President Obama prematurely credited Yemen as being a successful example of US counterterrorism strategy. The Yemeni links to the terrorist attacks in Paris in early January – at least one of the gunmen had been trained in the country – re-established the country high on Washington's list of priorities. The beleaguered US embassy has been at the center of attempts for some political reconciliation. A comment by an official in Washington that there were "no plans" to evacuate it were belied by a CNN report that two US navy ships had taken up position in the Red Sea, ready to evacuate Americans from the embassy if needed.
The essence of the emerging compromise appears to be a new constitution which will ensure better representation for the Houthis. On 27 January, the rebels, who have dominated the capital since advancing from their tribal area in the mountains of the north last year, released President Hadi's chief of staff who they had abducted 10 days earlier. The president's current legal status is ambiguous. He offered his resignation last week, a decision described by the rebel leader, 'Abd al-Malik al-Houthi, on 28 January, as a "maneuver."
But the regional consequences are as great as the domestic intricacies. For decades, neighboring Saudi Arabia has been almost neurotic about its impoverished neighbor. Saudi population statistics are often judged to be skewed to show that the kingdom is more populous than Yemen, so as to dent any Yemeni revanchism for historically lost territory. (The World Bank gives a figure of 28.8 million in Saudi Arabia, including several million expatriates, and 24.4 million for Yemen).
The founder of the kingdom, King 'Abd al-'Aziz, reputedly warned on his death bed against allowing Yemen, then divided into two states, to unite. But unification did eventually occur in 1990, prompting Riyadh to back a southern breakaway movement in 1994, which forces of President 'Ali 'Abd Allah Salih soundly defeated, but also adding to Saudi-Yemeni distrust. President Salih was eventually pushed out in 2012 after Yemen's own version of an "Arab Spring".
Saudi official reaction to the violence in San'a - Houthi shelling and confrontations between rebels and civilian demonstrators - has been muted, although its newspapers have headlined the increasing chaos. On 20 January, Riyadh took cover behind an Arab League call for all parties in Yemen to reject violence, almost certainly a forlorn hope in a country where adult males are traditionally armed. Saudi decision-making on Yemen was likely slowed by the indisposition of King 'Abd Allah, who eventually died on 23 January. The Yemen portfolio in Riyadh is said to be divided between Minister of Interior (and now also deputy crown prince) Prince Muhammad bin Nayif, who handles counterterrorism issues, and the Ministry of Defense (now led by King Salman's 30-something year old son, Muhammad), which looks after payments to the tribes along the border.
It is not clear whether Yemen faces anarchy or merely a power vacuum. The Houthi tribesmen from the Zaidi sect, linked to Shi'ite Islam, were initially motivated by grievances but now appear to want control rather than just influence. President Hadi is said to fear being accused of human rights violations, which meant he did not block the Houthis initial advance on the capital, nor order his army or security forces to clampdown on them. As a force, the Yemeni military seems to have evaporated. The United Nations envoy, a Moroccan diplomat, is at the center of the new reconciliation talks, but has had little impact in previous rounds. Adding to Saudi fears is the sense that the success of the Houthis, who have previously received support from Tehran, will be perceived as a strategic advance for Iran.
As if on cue, on 26 January, a leader of the Qods Force of Iran's Revolutionary Guards, described the Houthis as similar to Hizbollah in Lebanon, and said Tehran supports them. Saudi indigestion was no doubt worsened by the reported comment of a senior US defense official that Washington was liaising with the Houthis, because of the shared antagonism towards AQAP.
Even if a political timetable can be arranged and President Hadi can hold on, further destabilization appears inevitable. For the US, this is a setback for action against al-Qa'ida groups who have found sanctuary in Yemen. Also, if southern Yemen were to secede, it could make the strategic Bab al-Mandab strait from the Red Sea into the Indian Ocean more lawless. For Saudi Arabia, events in San'a mean Riyadh is increasingly having to cope with two fronts: (Sunni) Islamic State forces to the north, and (Shi'ite – in Saudi terms, Iranian proxies) Houthi forces to the south.
SAUDI ARABIA VS YEMEN POPULATION (MN)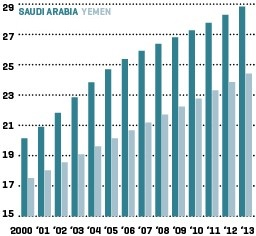 SOURCE: WORLD BANK.
Simon Henderson is the Baker fellow and director of the Gulf and Energy Policy Program at the Washington Institute for Near East Policy. This is an updated and extended version of a Washington Institute Policy Alert originally published on 20 January 2015.